This is an archived article and the information in the article may be outdated. Please look at the time stamp on the story to see when it was last updated.
INDIANAPOLIS, Ind. (Dec. 29, 2015)– An Indianapolis bounty hunter stands accused of killing two teenagers and going to great lengths to hide their bodies.
Kevin Watkins, 49, who owns "Watkins Bail Bonds" in the 6000 block of Massachusetts Avenue, was being held on two counts of murder.  Watkins was scheduled to appear in Marion County Court Wednesday morning to hear the formal charges.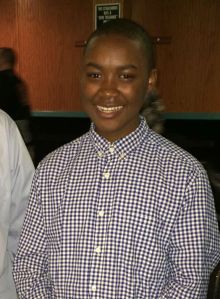 Watkins' arrest came after a woman called police to report her 16-year-old son was missing.  Amber Partlow told police her son, Dionne Williams, and his 15-year-old friend, Timmee Jackson, hadn't been heard from since around 8:00 p.m. on Christmas Eve, when he left the house with friends.  Partlow told police Dionne had been having problems with residents in the 5900 block of East 23rd Street, where Watkins lived.
Watkins apparently suspected Williams of being involved in a previous burglary at his home.  Court documents state that Watkins' daughter confronted Williams' girlfriend, saying that Dionne "has got another thing coming."
When Partlow went to Watkins' home, looking for her son, she found blood in the yard and on the front porch.  Court documents state that Partlow asked Watkins about the blood, and Watkins said he didn't know anything about it.
Partlow called police, who visited Watkins home.  An IMPD officer could see blood on the back bumper and rear doors of an SUV parked in Watkins' driveway.  The officer could also see two blood trails leading from the home to the garage of a vacant house next door.  Court documents say a later search at Watkins' home revealed a bloody rake behind a trash can, as well a bloody wad of duct tape inside the trash can.  Investigators also found blood and pieces of what appeared to be brain matter in the yard.
Inside the SUV, investigators found blood in "just about every passenger compartment of the vehicle," court documents said.  In the rear of the SUV investigators found a garbage bag full of bloody clothing.  The clothing matched outfits described by Williams and Jackson's families.  "The clothing was turned inside out as if it had been stripped off a victim," a probable cause affidavit stated.
There were pieces of bone and apparent brain matter on the clothing, bloody leaves, pieces of bloody toilet paper and one fingertip, court documents say.  Investigators also found a package for a SOG Tactical Tomahawk, although the tomahawk was not located.
Detectives later searched "Watkins Bail Bonds," including a dumpster behind the building.  Inside the dumpster, police found muddy jeans, bloody shoes and a handgun that turned out to be a BB gun.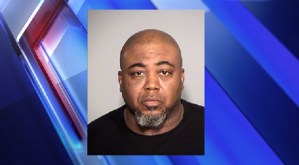 Court documents say surveillance video outside Watkins Bail Bonds shows Watkins' vehicle pulling to the rear of the building on the night of Christmas Eve.  Watkins is seen hanging a black garment over a fence behind the building, then later removing it.  The video then shows another person arriving in a White Ford Expedition and shaking hands with who appears to be Watkins, before carrying something to the Ford and leaving.
Detectives later found evidence of blood on the white Ford during a search at a different location.
Around 3:45 a.m. Christmas Day, the surveillance video at Watkins Bail Bonds shows Watkins carrying a shovel from his SUV.  It shows him throwing a smaller bag into the dumpster before changing his shirt, and throwing another bag into the dumpster.  He then makes multiple trips between the SUV, the dumpster and the rear door of his business.
A December 27 search of Watkins Bail Bonds uncovered blood evidence in a back room that contained a restroom and storage area.  Detectives also found a coat with blood and mud on it, as well as a bloody mop.
The bodies of Dionne Williams and Timmee Jackson had not been located as of Tuesday night.  Based on the evidence collected, detectives and prosecutors charged Kevin Watkins with two counts of murder, a Class-A Felony.
It is not known if any other arrests will be made in the case, or if further charges could be brought against Watkins.