This is an archived article and the information in the article may be outdated. Please look at the time stamp on the story to see when it was last updated.
INDIANAPOLIS, Ind. – An Indianapolis man found not guilty of murdering his infant son was released from the Marion County Jail around 2:30 this morning.
The case involving Willie Wilson and his 6-week-old son, Delano, set off a desperate search across the city of Indianapolis. Wilson told Indianapolis Metropolitan police that kidnappers confronted him and took the boy away in August 2014.
The trial started on Monday, and jurors got the case just before 3 p.m. on Friday afternoon. Family members and media were notified that a verdict had been reached around 8:30 p.m.
Back in August 2014, police activated an Amber Alert and searched for the boy. A month after Delano's disappearance, police released a sketch of two suspects—a man and a woman—who'd supposedly taken the boy.
Wilson initially helped with the search, and the boy's mother made an impassioned plea for baby Delano's safe return.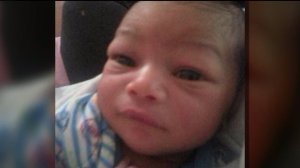 Ultimately, search teams never found the boy. In February 2015, Wilson was charged with murder in connection with the baby's disappearance.
Court documents said investigators found internet searches related to child abductions and missing infants on a phone belonging to Wilson. Court documents showed that Wilson performed 24 different internet searches on the day Delano was reported missing.
Surveillance video showed Wilson walking by himself just a minute before he called 911 to report the kidnapping, contradicting his statements about being robbed. Police also found possible traces of human blood in the bathroom sink and bathtub, as well as on a light blue baby blanket.
Police said baby Delano is dead and closed the missing persons case related to his disappearance. The boy's remains were never found.
Baby Delano's mother, Taniasha Perkins, was also never criminally charged.
Ultimately, the case that played out in court was largely circumstantial, as prosecutors had no body or a crime scene to go on.
The family of baby Delano said they simply want to know what happened to the little boy.
"He was on all the websites. I could assume that maybe he gave it to someone, or perhaps he sold it to someone, but he's got something to do with my missing Delano," said Ella Perkins, Delano's great great aunt, "What's done in the dark will come to the light. God will reveal it in his time… (Delano) lives in the arms of Jesus."
Prosecutors would only say they respect the jury process and at this point no other charges against Wilson or anyone else appear likely.
"All I can say is that as a prosecutor, we respect the jury's verdict, and I can't go further than that," said Denise Robinson, Marion County Deputy Prosecutor, "Other than IMPD continuing to search, the investigation is closed."
Prosecutor Denise Robinson "under the law willie Wilson is a free man" pic.twitter.com/Rwkac3htOC

— Kendall Downing (@kendall_downing) October 8, 2016