This is an archived article and the information in the article may be outdated. Please look at the time stamp on the story to see when it was last updated.
INDIANAPOLIS, Ind. – Indianapolis Metropolitan police and the FBI are investigating after a local Islamic school received a threatening letter.
The note was received at the MTI School of Knowledge and makes broad threats toward Muslims in the U.S. It appears to be tied to a string of derogatory notes directed at Muslims across the country.
The letter calls Muslims a "vile and filthy" people and refers to President-elect Donald Trump as the "new sheriff in town." It pledges that Trump will "cleanse America" and will "do to you Muslims what Hitler did to the Jews." The letter, signed by "Americans for a Better Way," suggested that "Muslims would be wise to pack your bags and get out of Dodge."
"This is a great time for patriotic Americans," the letter concluded, "Long live President Trump and God bless the USA."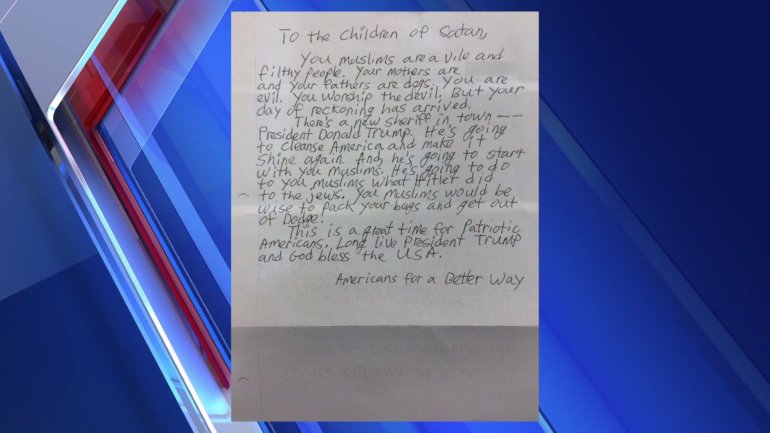 "Just to know that people would send hate to our children, it's heart-wrenching," said Shukryah Mustafa, a mother of four students at MTI.
Mustafa explained how she was scared at first, but now she is teaching her children how to react.
"I wanted to protect them, but at the same time I want them to be aware of the world they live in," she said. "I think when people see we're human; Yeah okay we have this hijab, yeah we have different names, but we're human. I think then more love will come."
Henry Hane with the Indianapolis Muslim Community Association called the letter "disheartening" and said the Muslim community has received an outpouring of support from people around Indianapolis and beyond:
It is unfortunate that in the United States of America in the year 2016 we have to talk about bigotry and hatred on a national level. Our community has been receiving an out-pour of love and supportive messages from many people in and outside of the city. Thus, we will not allow this unfortunate incident to overshadow the unity shown among citizens of this country.
The letter has a return address from West Lafayette but was postmarked in California.
At least 10 Islamic centers across the country have received similar letters in several states, including California, Florida, Georgia, Ohio and Pennsylvania.
The Council on American Islamic Relations is calling on President-Elect Trump to speak out about these hateful incidents.