This is an archived article and the information in the article may be outdated. Please look at the time stamp on the story to see when it was last updated.
INDIANAPOLIS, Ind. – Two local cousins who drifted away after growing up are now "brothers," thanks to a Knightstown man who stepped up to the plate with a simple comment, "I'm in."
Terry Angel, 45, of Indianapolis, has no idea how he got Focal segmental glomerulosclerosis (FSGS) when he was just 17. The leading cause of kidney failure in adults struck Angel when he was as strong as an Ox.
Throughout his 20's and 30's, Angel said the disease didn't really affect him. He saw a renal specialist every six months and maintained a healthy diet. Then, Angel received some bad news about two years ago.
"They told me I would have faded away within a year," Terry said.
His renal numbers began to drop significantly and he was forced to begin dialysis. After a few months of traditional dialysis via a needle into a vain, Angel said he switched to receiving it through his abdomen.
"Four times a day, they fill your your abdomen with a solution containing sugar, it sits outside your stomach and pulls toxins through," Terry spoke of his experience with peritoneal dialysis.
It was better than traditional dialysis, but left him extremely fatigued and hopeless for a normal life. He said he would get back from his job as a IMS software developer at dinner time and just go to bed.
He took to Facebook, where he posted he was in need of a new kidney due to his battle with FSGS. Not soon after, he noticed a comment with the simple phrase, "I'm in."
It was written by his cousin, Dennis Angel, someone he didn't grow up too close with due to their extremely large family.
From there, the process was on. But the road to Friday's donation wasn't always smooth. Despite being a related living donor, the most preferred type of donor, doctors said Dennis, 52, had to get in shape.
"I had to lose 75 pounds during this process and gave about 18 different vials of blood," Dennis said. During the last two years, Terry gained weight due to the peritoneal dialysis and also had to lose around 30 pounds.
Dennis said he self-quarantined himself for about a week prior to the surgery and had to do special walking treatments.
After it was initially delayed when Terry had the flu last week, doctors said the surgery was very successful.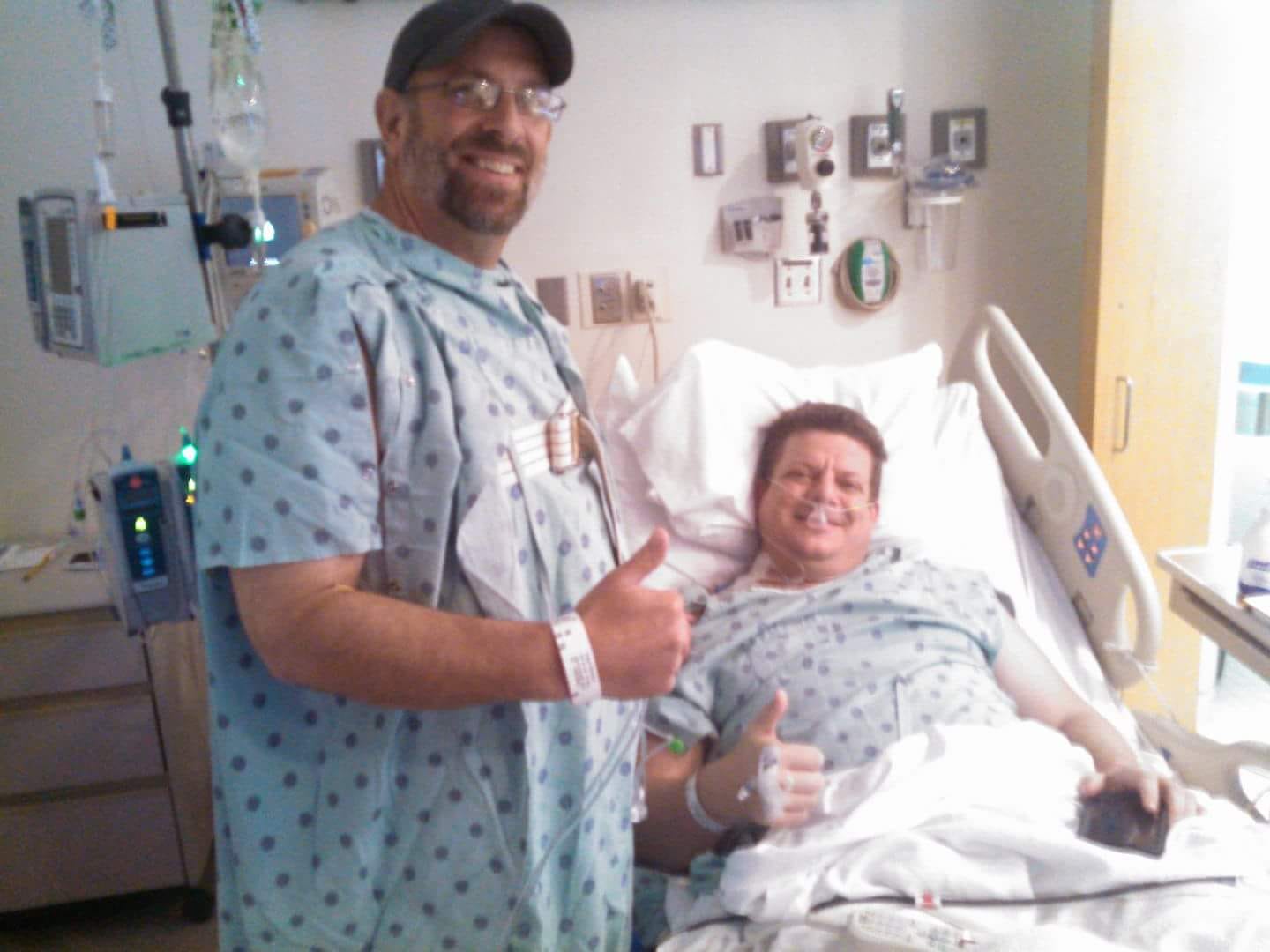 "It's extremely liberating, it feels like I have a new lease on life. I pretty much shut my life down for a couple of years," Terry told us from the hospital.
Prior to our call Saturday morning, he was able to get up and walk around feeling great. He said the next two weeks are crucial, where it's possible his body could stick reject Dennis' kidney.
Even after the cousins rediscovered each other over 10 years ago, their bond will now be brotherly. "We're brothers now," Terry told Dennis, who he said does not like taking credit for good deeds.
Dennis said he was released from IU Health Saturday afternoon and Terry will be there until next week.
Now, the Angels want Hoosiers to know donating your kidney is not as scary as it seems.
"Don't be afraid of the stigma of taking an organ out of your body, it's a simple procedure. You only need one kidney," Terry said.
The "brothers" will continue work with National Kidney Foundation to raise awareness around renal failure.
To register as a kidney donor in Indiana, click here.