This is an archived article and the information in the article may be outdated. Please look at the time stamp on the story to see when it was last updated.
We're not the only ones enjoying the sunshine and warm weather. The animals at the Indianapolis Zoo are also glad Spring is finally here.
Now's your chance to get out and see the wildlife soaking up the rays.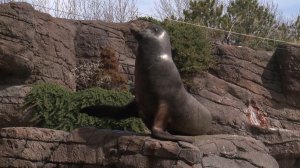 Zoo officials said there is still a little bit of a chill in the air but that actually makes the animals more active and more fun to watch.
With big crowds expected, the zoo is also offering some extra shows this weekend including the return of Jump, the ultimate dog show..
"It's finally warm enough to get out. We've been on Spring Break for two weeks and it's been such nasty weather so we just decided to come on out to the zoo," said Cindy Truitt.
Right now, the zoo is open from 9 a.m. to 4 p.m. Monday through Thursday and from 9 a.m. to 5 p.m. on the weekends.