This is an archived article and the information in the article may be outdated. Please look at the time stamp on the story to see when it was last updated.
Indianapolis, Ind. (July 18, 2014)– The Hoosier State gained 10,000 private sector jobs in June, with every major industry sector experiencing growth.
Indiana's private sector gains signified the largest June increase on record. Since July 2009, the low point of employment in the state, Indiana's private sector, has expanded by 235,300 jobs. Manufacturing alone has accounted for 77,800 jobs, or one-third of the gains.
Despite Indiana's significant private sector gains, the unemployment rate in the Hoosier State inched up 0.2 percent to 5.9 percent, mainly due to 4,000 individuals returning to the labor force to look for work. Indiana's labor force participation rate remains at 63.3 percent, exceeding the national rate for the third month in a row.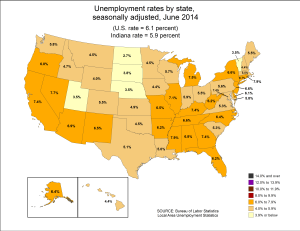 "Indiana added more private sector jobs last month than any other June on record, which is quite significant," said Scott B. Sanders, Commissioner of the Indiana Department of Workforce Development. "The Hoosier labor force has also grown by more than 43,000 in 2014 alone. There is definitely more work to do, but it remains clear that Hoosiers are going back to work and good jobs are available."
Sanders also noted initial claims and continued claims for unemployment insurance benefits remain at levels not seen since 2000.