This is an archived article and the information in the article may be outdated. Please look at the time stamp on the story to see when it was last updated.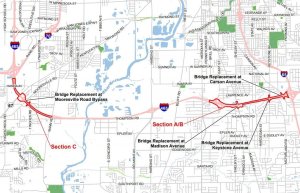 INDIANAPOLIS, Ind. — A public open house will be held on Wednesday to discuss the I-465 reconfiguration project.
The Indiana Department of Transportation (INDOT) is hosting the event and is asking the public to voice their thoughts on I-465 construction scheduled to begin in 2021.
Part of Governor Holcomb's Next Level Roads initiative, the project involves I-465 on the south side of Indianapolis from just west of U.S. 31 to the I-465/I-65 interchange and I-465 between the I-70 interchange and Mann Road.
Plans include widening of I-465 in both directions and the building of retaining walls, according to INDOT.
The reconfiguration of the I-465/U.S. 31 interchange and the replacement of multiple bridges will also be discussed.
The open house will be held Wednesday, July 10 at 6 p.m., beginning with a presentation from INDOT at 6:30 p.m., at Decatur Central High School Cafeteria located at 5251 Kentucky Avenue.
To learn more about INDOT and Next Level Roads, click here.