This is an archived article and the information in the article may be outdated. Please look at the time stamp on the story to see when it was last updated.
Florence Henderson, the lovable mother on TV's iconic "The Brady Bunch" sitcom, and an annual fixture at the Indy 500, has died. She was 82.
Word of Henderson's passing came from her manager and publicist in Los Angeles, where she lived. She died Thursday night at Cedars-Sinai Medical Center in L.A. after being hospitalized the day before, according to the Associated Press. Family and friends had surrounded Henderson's hospital bedside, said publicist David Brokaw.
FOX59 News spoke early Friday morning with Doug Boles, president, Indianapolis Motor Speedway, about Henderson and her long-time role with Race Day.
"Florence was certainly a big part of the pageantry and tradition at the Indy 500," Boles said. "She will definitely be missed."
FH shared a passion for the 500 that all @IMS fans have & she was an integral part of 500 pageantry & traditions each year. We will miss her https://t.co/D8K2oGXmux

— J. Douglas Boles (@jdouglas4) November 25, 2016
IMS officials released the following statement:
"Florence Henderson had an amazing impact on generations of Americans through her platform as an actress and an even more profound impact on Indianapolis Motor Speedway fans through her passion for and contribution to those special moments leading up the command to start engines at the Indianapolis 500. Our fans looked forward to seeing her on Race Day each year and her pre-race involvement became one of the expected annual traditions that makes the Indianapolis 500 so powerful. This past year, we were pleased to have honored her as the Grand Marshall for the 100th Running of the Indianapolis 500. More importantly, Florence Henderson was a treasured friend of the Hulman-George family for many years and the bond between them was as strong as family. We thank her for her friendship and love for our sport and her friends and family will be in our prayers. She was a lovely lady and she will be missed."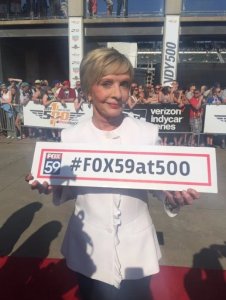 Henderson was a native Hoosier, born in Dale, Ind., in the southern portion of the state. At various times since the early 1990s, Henderson sang  the National Anthem, God Bless America, or America The Beautiful as part of the pre-race festivities.
"I've always said the best part of Race Day is the 30 minutes leading up to the start, and that obviously included Florence," Boles added. "She was very close to the Hulman-George family, and meant a lot to race fans. This will definitely be a shock to many people."
Henderson served as the Grand Marshal for this past 100th running of the Indianapolis 500 race.
From the beginning, to Broadway, to Brady
Henderson's life story wasn't as ideal as the one she was a part of on TV. She grew up poor in Indiana, with an alcoholic father and a mother who left when she was 12 years old.
She was a talented singer, and would use her voice to entertain the family and help make ends meet.
"I don't ever remember not singing. and I would sing and pass the hat. and I would sing for groceries," she told the Archive of American Television in 1999.
Her big break came in 1951 when she was offered a starring role in the musical "Oklahoma!" Her voice carried her to a successful Broadway career, and eventually she began landing high-profile television gigs.
In 1959 she was on set as an NBC "Today Girl," and in 1962, and she became the first woman to guest host the "Tonight Show."
In 1969, Henderson became Carol Brady.
"I created the kind of mother that I wished I'd had, and I think everyone longs for," she said.
Henderson married her first husband, Ira Bernstein, in 1955, had her first child, Barbara, in 1956. The fact that she was a young wife and mother helped her bring the role of Carol Brady to life.
"I understood kids. I was close to them," she said in the 1999 AAT interview. "I was the only one on the set who was married."
Henderson had four children with Bernstein. They were married for 29 years.
In 1987 she married John Kappas, a hypnotherapist. He died in 2002.
Public figures and celebrities who knew Henderson react to the news of her death this morning.
You are in my heart forever Florence💕 pic.twitter.com/PABCuPubA2

— Maureen McCormick (@MoMcCormick7) November 25, 2016
Rest In Peace Florence Henderson, a dear lady with a great sense of humor & a terrific laugh. 'America's mom' has died.

— Larry King (@kingsthings) November 25, 2016
I'm deeply saddened by the loss of Florence Henderson. So many of us grew up watching the Brady Bunch!
RIP Carol Brady you will be missed🙏🏼

— La Toya Jackson (@latoyajackson) November 25, 2016
Broken hearted. She was like a mom to is all. I'm grateful I had the chance to get to know you these past few years. RIP #FlorenceHenderson

— Carrie Ann Inaba (@carrieanninaba) November 25, 2016
RIP Florence Henderson. "The Brady Bunch" was everything.

— Debra Messing✍🏻 (@DebraMessing) November 25, 2016
It's sort of poetic for America's favorite TV mom to pass away on Thanksgiving. R.I.P. #FlorenceHenderson.

— Scott Nevins (@ScottNevins) November 25, 2016