This is an archived article and the information in the article may be outdated. Please look at the time stamp on the story to see when it was last updated.
INDIANAPOLIS (May 18, 2015) – Practice for the Indianapolis 500 was called off temporarily Monday following another crash at the Indianapolis Motor Speedway.
IndyCar driver James Hinchcliffe hit the wall during practice during a fiery crash Monday afternoon and was helped out of his car by medics. The car spun and flipped before coming to rest on the track.
The crash brought out the yellow flag for practice. According to IndyCar officials, Hinchcliffe was awake when he was taken to IU Health Methodist Hospital. He was transferred Monday evening to the intensive care unit and remains in stable condition.
"Obviously we're relieved that James is awake and out of surgery," said Schmidt Peterson Motorsports team owner Sam Schmidt. "That's the most important thing on our minds right now and we will do absolutely everything required to ensure a complete recovery."
IndyCar practice resumed at 4:15 p.m.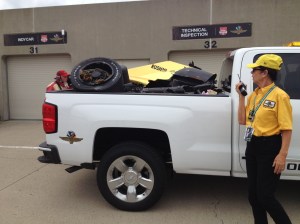 The accident is the latest from the Indianapolis Motor Speedway. Last week, Helio Castroneves' car went airborne, as did Josef Newgarden's. Ed Carpenter's car went airborne during Sunday's practice session.
Monday's crash is believed to be the result of a mechanical failure, whereas the three prior crashes occurred after the drivers' cars spun out of control.
"This is a sport that is very risky," said Castroneves. "It's a dangerous sport and we are traveling at very fast speeds."
Townsend Bell races in the Indy 500 and works as an IndyCar analyst the rest of the year. He admits the string of crashes in the past week leave him apprehensive, but he says that IMS was founded on the premise of high risks and high rewards.
"This is a learning process and that's kind of endemic to IMS," he said. "This place was built as a test track to find out how fast you can go and that hasn't changed today. We're still doing the same thing and trying to experiment and see how fast we can go. Can we win the race? That's why we're all still standing here."
James Hinchcliffe has crashed during practice. More details coming as we find them out.

— Mike Berman (@MikeBermanNBC) May 18, 2015
Hinchcliffe's Schmidt Peterson Motorsport teammates James Jakes/Connor Daly enter the medical center to check on him. pic.twitter.com/iCsSyYHkiY

— Mike Berman (@MikeBermanNBC) May 18, 2015
Hinchcliffe's pit crew packs up to head back to the garage and check out car following Hinch's crash. #IndyCar pic.twitter.com/1IkipRMogV

— Charly Caruso // Arnolt (@CharlyOnTV) May 18, 2015
James Hinchcliffe is awake and alert but is being transported to Methodist Hospital for further evaluation. #Indy500 #INDYCAR

— NTT IndyCar Series (@IndyCar) May 18, 2015
Medical update: James Hinchcliffe has sustained an injury to his upper thigh and is currently in surgery. Further information to follow.

— NTT IndyCar Series (@IndyCar) May 18, 2015
Hang in the brother. @Hinchtown we're all praying for the best.

— Graham Rahal (@GrahamRahal) May 18, 2015