This is an archived article and the information in the article may be outdated. Please look at the time stamp on the story to see when it was last updated.
INDIANAPOLIS, Ind. — A downtown CrossFit gym is facing backlash after members say management discriminated against the LGBTQ community.
Members say the controversy started when a special workout planned by coaches at CrossFit Infiltrate in support of Indy Pride was cancelled by gym ownership. In an email sent to members by gym management, it was explained that the event was cancelled because "the owners of the gym value health and wellness, and they believe that this event does not."
"I didn't know what to think, because like I said everyone was so friendly and welcoming," former member Dan Mendoza said.
Mendoza said he reached out to gym management for clarification of their position and was sent an email that read:
"Our underlying goal for the staff and members at CrossFit Infiltrate and our other gyms CrossFit White River and University Ave CrossFit, is total health and well-being for the individual and the community. Total health involves the body, the emotions, relationships, and the spirit. At the foundational detractor from health, as we believe God sets the parameters for, is pride. We believe that true health forever can only be found within humility, not pride. Humility is seeing oneself as they truly are, and as God truly defines them to be. As a business we will choose to deploy our resources towards those efforts and causes that line up with our own values and beliefs."
"I didn't feel welcome, you know, I didn't feel the way I did when I first started," Mendoza said.
Mendoza said he and his partner decided to cancel their memberships to the gym after reading the email.
An employee of CrossFit Infiltrate confirmed that Mendoza and his partner were part of a large contingent of members who decided to leave the gym. The employee said as a result, many of the coaches and staff also quit. The concern now is the exits may cause the gym to shut down.
Officials with CrossFit infiltrate released a statement on the backlash that read:
"The unfortunate line that is being read about the gym grossly misrepresents what CrossFit Infiltrate stands for and what it believes. The majority of the reviews and statements being read about the gym largely point out that Infiltrate's community has been incredible and welcoming and that the decision not to host an Indy Pride event is the reason we are called bigots or discriminative. However, let the history of the gym speak for itself and for the position we take in this divisive atmosphere, CrossFit Infiltrate welcomes, serves, and prioritizes training people to be fit and functional in body, mind, and spirit. It never has and never will be anything but welcoming to all human beings who live, move, and breathe in God's world."
Russell Berger claimed to be a "Chief Knowledge Officer" for CrossFit on his Twitter page but a company spokesperson said he was a legal researcher.
He doubled down on the attacking of the LGBTQ community, calling them sinners in a stream of tweets, which have now been deleted.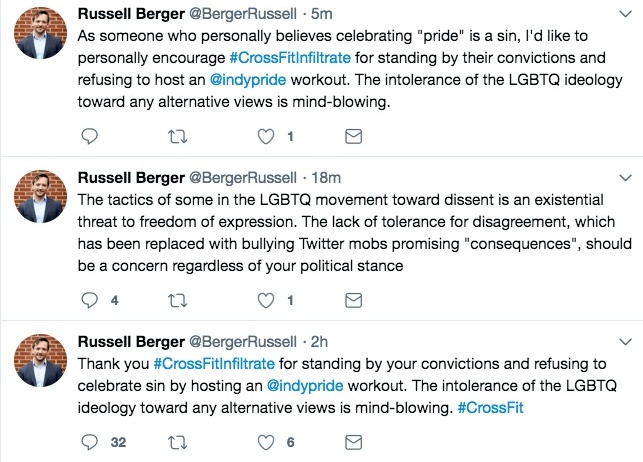 As for Mendoza, he says he and his partner will now attend another gym that they feel is more inclusive.
"You can say and do whatever you want, but there are consequences," he said.