This is an archived article and the information in the article may be outdated. Please look at the time stamp on the story to see when it was last updated.
LAWRENCE, Ind. – A 14-year-old boy shot in the head during a birthday party in Lawrence is not expected to survive his injuries.
The family of Daron Johnson, whose loved ones called him Manny, says doctors have told them the teen is brain dead and won't recover.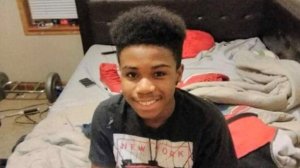 Police say the shooting started with a fight at the birthday party where two people opened fire, wounding five teens. Manny's mother says she dropped her son off at the Lions Club building never thinking it would be the last time she would talk to her son.
Now, she and police are asking for the public's help bringing all the suspects to justice.
"It's just not fair to me and his brothers that we have to go home without their brother and without my son and I'm just I'm torn apart," said Cheree Sampson.
Manny's mother said her son was just an innocent bystander and was not specifically targeted. She added the only reason she trusted him to be at the party in the first place is because there were several adults serving as chaperones.
"Manny was a home body. He was a momma's boy. He wasn't out here in these streets. He was innocent," said Sampson.
Lawrence police arrested a 14-year-old suspect following the shooting, but they now confirm witness accounts that there were actually two shooters. The second suspect has not been caught.
"There was a definitely a second person who fired shots that night and we need to get them identified and held responsible for their actions and bring some resolution to this grieving family," said Lawrence Police Department Deputy Chief Gary Woodruff.
"We just need for the parents and the children to come forward. We need for someone to speak. Just speak up because my baby didn't deserve this," said Sampson.
Anyone with information on the case is asked to contact Lawrence police at 317-549-6404 or Crime Stoppers at 317-262-TIPS. All tips to Crime Stoppers are considered anonymous.