This is an archived article and the information in the article may be outdated. Please look at the time stamp on the story to see when it was last updated.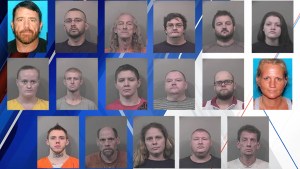 JOHNSON COUNTY (Nov. 18, 2014) – Officers from 11 law enforcement agencies in Johnson County carried out a joint operation Tuesday morning targeting methamphetamine and heroin.
Officers from the U.S. Marshals/Great Lakes Regional Fugitive Task Force led the raid, which involved more than 50 officers and led to 20 arrests.
Authorities said it's the first time they've conducted such an "across-the-board" collaboration to combat drugs in Johnson County.
"It'd be alright with me if 3 months from today we had 20  more people that we were going to after because our goal is to get people off the street. When we do that, hopefully (we'll be saving) lives," Johnson County Sheriff Doug Cox said.
The operation included the Johnson County Sheriff's Office, Franklin Police Department, Greenwood Police Department, Indiana State Police, Bargersville Police Department, Whiteland Police Department, New Whiteland Police Department, Edinburgh Police Department, Trafalgar Police Department, Prince's Lakes Police Department and Center Grove Police Department. The Johnson County Prosecutor's Office was also involved.
The arrest warrants were based on undercover investigations from narcotics detectives at the Johnson County Sheriff's Office. The detectives completed a number of drug transactions in Edinburgh and surrounding areas. Sheriff Cox said most of the people who were arrested lived in Edinburgh.
"It just so happens that our narcotic investigators found people that (were) willing to give up information on folks in Edinburgh," Sheriff Cox said.
Sheriff Cox said besides meth and heroin, they have noticed recent issues with prescription pills and painkillers.
"Narcotics (are) the reason why a lot (of) other crimes occur in our communities," Cox said.
The following individuals were arrested:
Leslie Stoddard: dealing methamphetamine
Robert Sullivan: 2 counts of dealing methamphetamine
Martin Emerson: 2 counts of dealing methamphetamine
Jessie Murphy: 1 count of dealing heroin
Michelle Ahaus: 2 counts dealing heroin
Rex Locke Jr.: 2 counts conspiracy to deal heroin
Sandra Bowers: 2 counts of dealing methamphetamine
Dennis Jones: 3 counts of dealing methamphetamine and 1 count of dealing heroin
Mickey Harper: 1 count of dealing in methamphetamine
Steven Murphy: 1 count dealing in a look-alike substance
Nathan Patterson: 1 count of dealing heroin
Timothy Setser: 1 count dealing a controlled substance
Anthony Plymate: 2 counts dealing in methamphetamine
Rebecca Bradford: 1 count of dealing methamphetamine
David Ben Glover: 2 counts of dealing in methamphetamine
Hayley Kerrighen: 1 count of dealing a controlled substance
Lainie Marie Myers: 2 counts of dealing methamphetamine
A juvenile female was also arrested for dealing heroin, police said.
Some people being sought were not captured, and the investigation remains open.