This is an archived article and the information in the article may be outdated. Please look at the time stamp on the story to see when it was last updated.
MONTGOMERY COUNTY, Ind. – The cat found badly burned in a Montgomery County field last week has died, according to officials with the Animal Welfare League of Montgomery County.
The cat, nicknamed Phoenix, had been showing signs of recovery over the weekend, but her condition took a turn for the worse Sunday, and officials with the Animal Welfare League said Phoenix passed away.
"It is with a heavy heart and a lot of tears I tell you our baby girl got her wings. Fly high Phoenix," the group wrote on Facebook just after 9 p.m. Sunday.
On Saturday, the group said she was showing signs of improvement. Even Sunday morning, they described her as a fighter and said she was stable.
By Sunday night, Phoenix was in critical condition and experiencing respiratory problems. The veterinarians were concerned she had fluid in her lungs, the group posted around 8:15 p.m. Less than an hour later, the group posted that Phoenix had died.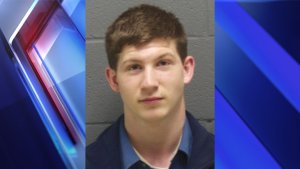 A retired firefighter found Phoenix Wednesday night. He was at home watching TV he saw a flame shoot up from a field. Phoenix was covered in gasoline and someone had put a firecracker on top of her. She was taken to Purdue Animal Hospital for treatment.
Thursday night, the Montgomery County Sheriff's Office announced the arrest of 19-year-old Noah Riley in connection with the case. Riley, who faces two counts of animal cruelty, told police he'd seen several social media posts about the cat and wanted to "get the issue resolved."