This is an archived article and the information in the article may be outdated. Please look at the time stamp on the story to see when it was last updated.
UPDATE (Nov. 1, 2021) — Rachel McAfee was sentenced to 16 years, including 12 in the Indiana Department of Correction and 4 on work release. She pleaded guilty to neglect of a dependent as part of plea deal.
INDIANAPOLIS, Ind. – A mother arrested on a neglect charge in the death of her three-month-old infant daughter appeared intoxicated when police found her, investigators say.
Today, prosecutors officially charged the mother Rachel McAfee with neglect of a dependent causing death.
According to court documents, officers located Rachel McAfee, 36, around 3 p.m. Tuesday after a witness reported seeing her SUV.
When officers arrived, they found the car wasn't running, the vehicle was out of gas, and the battery was dead. McAfee's baby daughter, Emma, was on the passenger side floorboard; the baby was "cold to the touch and appeared to be deceased," according to court documents. Medics pronounced her dead at 3:17 p.m.
Police said the temperature at the time was nine degrees.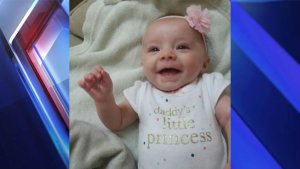 Police found a bottle of rum in the vehicle and said McAfee appeared to be intoxicated.
According to court records, McAfee left her home on Indy's far east side Monday morning to take her 3-month-old daughter to her in-laws house before attending an intervention to address her alleged alcoholism.
"It is a horribly horribly tragic situation for everyone involved," said Marion County prosecutor Terry Curry.
FOX59 talked to John McAfee after his wife and daughter disappeared but before they were found. He admitted early on his wife struggled with alcoholism and depression.
"She's drank since I've known her, but it's gotten out of control the last couple of years. That's kind of when all this started spiraling," said John McAfee.
In fact, police reports show just last week officers were called to check on Rachel's emotional welfare and John told police, "Rachel is known to drink alcohol until she passes out."
Her husband also said Emma didn't make it to her last scheduled doctor's appointing on Feb. 22 because his wife had consumed too much alcohol and passed out.
The probable cause affidavit continues that Rachel, " Had short term memory loss about the death of her child and no concept of time."
One local attorney says that may complicate the case.
"Did she know for instance if the car was going to run out of gas instead of keeping the child warm? What did she know and when did she know it," said attorney John Tompkins.
Attorney Tompkins isn't connected to the case but says because alcoholism and depression are mental health disorders, McAfee may not have legally understood what she was doing.
"What they'll have to show again is McAfee knew that she was endangering the child. So again the question becomes what was the last thing she knew and when did she know it," said Tompkins.
Still, prosecutors say the death of baby Emma comes with a simple message.
"You are responsible for the welfare of your child. There are mitigating circumstances here, but ultimately as a parent you are responsible for your child," said Curry.
A doctor who examined Emma found "signs that are consistent with cold-related deaths," according to court documents. The Marion County Coroner's Office said autopsy results are pending.
McAfee was taken to Eskenazi Hospital in critical condition, police said, and was being treated for frostbite. Her car was less than .1 mile from where her in-laws live.
A witness recalled seeing McAfee in the vehicle around 7:30 Tuesday morning and asked her if she was OK; McAfee, who was wearing a coat and had Emma in her arms, told the woman she was fine. The witness returned after work around 2:45 p.m. and noticed the vehicle was still in the same place.
McAfee, however, was no longer wearing her coat; the witness saw her lying across the center console. She appeared to be breathing, and the witness called 911.
FOX59 showed the probable cause to both Rachel's husband and father. They had not seen the charges. They both said they were in the process of hiring an attorney and didn't want to comment any more.
McAfee is set to make her initial court hearing Friday morning.
Tonight she remains in the hospital and has not been booked into jail. A booking photo has not yet been made available.