This is an archived article and the information in the article may be outdated. Please look at the time stamp on the story to see when it was last updated.
UPDATE: 
Ryan Cameron pleaded guilty to aggravated battery and was sentenced to six years in prison, three years of home detention and two years of probation.
ORIGINAL STORY:
INDIANAPOLIS, Ind.– Newly-released court documents reveal the gruesome details of a violent domestic abuse attack inside an Indianapolis home that left a woman missing most of her tongue. The victim shared her story of survival with FOX59 from her hospital bed.
Ryan Cameron, 26, faces charges of aggravated battery and strangulation after allegedly attacking his then-girlfriend, 25-year-old Carleigh Hager Saturday night.
Police spoke with Hager on Monday. She told them she had been living with Cameron since April 2016. On October 22, they went to a friend's wedding. Towards the end of the night, Cameron was intoxicated and wanted to stay, but Hager asked him to leave. They drove back to the home, followed by three guests.
Once they arrived home, Hager told police Cameron called her names and insulted her. She went to the bedroom to get away. According to the guests, they sat with Cameron and smoked marijuana.
After a brief time, Cameron "calmly" entered the bedroom and hit Hager in the face and began to strangle her. The guests came into the bedroom and took him from the room.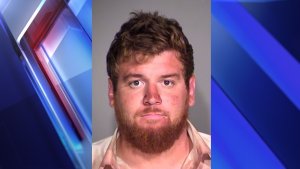 They were able to get him outside, but he went back in and locked everyone out. They called police and left because of the drug paraphernalia in the home.
According to court documents, officers arrived at the home Saturday night and heard a woman crying. Cameron walked towards the door covered in blood. Police say he was very confrontational and told them to go away because everything was OK.
Cameron would not allow officers in the home until they threatened to enter forcibly. Cameron unlocked the door and was taken into custody.
He told officers the woman in the home is his live-in girlfriend of about two years, later identified as Hager. He said they had been arguing about a wedding, but would not say anything more and became confrontational with officers.
The court documents show Hager was found in the bathroom, covered in blood. She had multiple facial injuries and was not very coherent. She was able to tell officers that Cameron had caused the injuries. She was transported to Eskenazi Health.
The tip of one of Hager's ears appeared to have been bitten off and she had a cut to her scalp and forehead that exposed her skull. She also had several bite marks on her right forearm. Both of her eyes were swollen shut.
An officer went to speak with Cameron, whose face and clothing were covered in blood. He also had several marks and cuts on his hands.
He refused to speak to the officer or say anything about the incident.
Back in the home, officers found large areas of blood and a handgun on top of a safe in the bedroom. Hair was found on a door frame and it appeared that Hager had tried to escape the residence through a window. There were "massive" amounts of blood on the floor, walls and bathtub in the bathroom.
Hager told police has trouble recalling the exact events of the night after the initial assault.
She said Cameron forced his way into the bathroom, threw her to the ground and began beating her. He placed his hands over her mouth and began pulling at her tongue. Hager said she remembered "gagging" and gasping for air, then nothing else.
This story ignited a conversation on social media of other survivors sharing what they went through and made it out. Many people detailed years of abuse under the Facebook thread of this story and how they managed to survive.
Hager was diagnosed with a cranial hemorrhage or subdural hematoma, an avulsion to the upper part of her ear and tongue. Both required sutures to repair. She had a swollen blood vessel behind her eye and multiple bite marks on her chest, back, arms and face.
The family has set up a GoFundMe account to help cover medical expenses for Hager.
If you are experiencing a case of domestic violence or know someone who is, you can contact the IMPD Victim Assistance Office at (317) 327-3331, the Indiana Coalition Against Domestic Violence or call 2-1-1.