This is an archived article and the information in the article may be outdated. Please look at the time stamp on the story to see when it was last updated.
INDIANAPOLIS, Ind.– Indiana State Police (ISP) confirmed Friday two detectives are in Colorado to question a man in connection with the murders of two Delphi teenagers.
Daniel Nations, 31, was arrested Monday in Colorado after police say he was driving with expired Indiana plates. He's also accused of threatening people with a hatchet on a Colorado trail.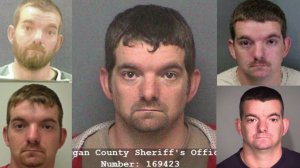 On Thursday, ISP called Nations a "person of interest" in the murders of Abby Williams and Libby German, but did not elaborate further. The girls were killed after walking along a trail in Delphi; the suspect came up behind them and told them to go "down the hill" before they died.
Nations is a registered sex offender and has convictions for domestic battery and drug possession.
When asked by the media if he was responsible for the killings in Indiana, he shook his head no. Now, Indiana State Police detectives are questioning him themselves.
Nations is being held in the Teller County Jail. He was originally only charged with possession of a weapon by a previous offender, but felony menacing and reckless endangerment charged were later added.
Person of interest in #Delphi murders *was in Morgan County the day after Abby & Libby were murdered. That's a 1.5 hour drive from Delphi. pic.twitter.com/DFo0WEkjj3

— Alexis McAdams ABC-7 (@AlexisMcAdamsTV) September 29, 2017
If you have any information regarding the investigation, police are encouraging you to call the tip line at 844-459-5786. Callers can remain anonymous. Tips can also be sent to abbyandlibbytip@cacoshrf.com.