This is an archived article and the information in the article may be outdated. Please look at the time stamp on the story to see when it was last updated.
LEXINGTON, Ky. – An Indiana man accused of fatally stabbing a 6-year-old Kentucky boy in 2015 was found not guilty by reason of insanity.
Jurors came to the decision Monday night in the case of Ronald Exantus, leading to disbelief and anger on the part of the victim's family.
Police said Exantus, a dialysis nurse, drove from Indianapolis to Versailles, Kentucky, in December 2015, broke into a home and stabbed 6-year-old Logan Tipton to death with a knife he'd found at the house. The boy's father held Exantus down until police arrived.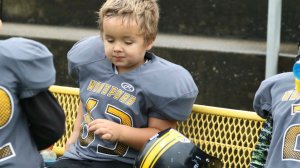 The trial lasted six days. Jurors deliberated for 12 hours before finding Exantus not guilty by reason of insanity of murder and burglary, according to WKYT. The jury found him guilty but mentally ill on assault charges.
Defense attorneys admitted that Exantus killed the little boy, but they argued that he suffered from mental illness and was not acting rationally. He left Indianapolis without baggage, a weapon or a plan, and drove to a place he'd never visited before, they said in court.
Prosecutors argued that Exantus was aware of what he'd done and told police, "I'm sorry, God," when officers arrived at the scene. He asked for an attorney after being arrested. They'd sought the death penalty.
But jurors heard testimony that Exantus behaved oddly at a state psychiatric center, barking like a dog and tearing at his dreadlocks. He told investigators he was "re-enacting surgery" from the TV show Grey's Anatomy, according to the Lexington Herald-Leader.
The jury had four options: not guilty, not guilty by reason of insanity, guilty but mentally ill or guilty.
For the assault charges, the jury recommended Exantus be sentenced to 20 years. A formal sentencing hearing will be held in April.