This is an archived article and the information in the article may be outdated. Please look at the time stamp on the story to see when it was last updated.
INDIANAPOLIS, Ind. – A man kept a woman chained up for days and held her prisoner in the basement of an Indianapolis home, prosecutors say.
Indianapolis Metropolitan police are now searching for that man. Maurice Nelson, 28, is accused of kidnapping and raping the woman at a home in the 4500 block of Norwaldo Avenue on the north side.
Nelson is wanted on three counts of rape and one count each of criminal confinement, battery by means of a deadly weapon, intimidation, battery resulting in bodily injury, interference with the reporting of a crime and battery by bodily waste.
On July 14, a neighbor called police around 6:20 p.m. after hearing the woman screaming. Police forced their way into the home and found the nude woman handcuffed in the basement. She was in shackles and had a chain with a padlock around her neck. Other chains bolted her to the floor and a pole, police said.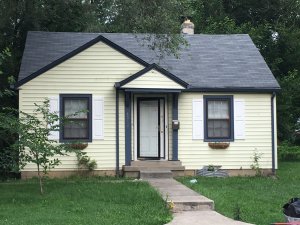 The woman told police she met Nelson on July 10 after speaking with him on a chat line. He picked her up at a hotel and she got into his car. She said they started having sex at his home when Nelson sprayed her with pepper spray.
He then overpowered and handcuffed her, forcing her into the basement. She told investigators he claimed to be a police officer and pretended he was talking into a police radio.
After chaining her up, she said Nelson beat her with a baton and raped her. According to court documents, the victim said Nelson told her he didn't like her hair, so he pulled her hair out with his hands and cut it with scissors.
The victim reported she was repeatedly threatened by Nelson during the course of her captivity. According to the report, the woman said Nelson told her she would be there for years and she would have his babies, threatening to kill the boys and leaving the girls for her to raise. He threatened to cut her teeth out if she bit him and to cut off her fingers if she scratched him.
At times, he unshackled her for "good behavior" but warned her that he'd let his dogs attack her if she tried to escape. She told authorities she did not have her cell phone, because Nelson destroyed it in a blender.
The victim told officers Nelson stated he was going to find more females during Black Expo and bring them back to his house.
"It's very disturbing that it's so close," said Lanise Rich.
Lanise works for a caretaker business. One of their clients lives right next door to Nelson's home and repeatedly heard the victims screams.
"He heard sounds of what he thought was someone saying, 'Help me. Help me.'"
That witness called a neighbor who alerted police. Officers then cut the lock off the front door and found the victim handcuffed and shackled in the basement.
"That's horrible. You know I just can't fathom that man," said neighbor Shawn Baker.
Most of the neighbors like Shawn didn't notice anything suspicious on their street until after police showed up.
"It's crazy man, but the thing is on this street it's pitch black at night because the street lights don't work," said Baker.
Police have been looking for Nelson for two weeks. He's described to have a tattoo on his chest that said "Prince" in red letters. He was also described to have a tattoo of a lady in a dress and a cross on his arm.