This is an archived article and the information in the article may be outdated. Please look at the time stamp on the story to see when it was last updated.
JENNINGS COUNTY (Sept. 23, 2014) – Police arrested three Indianapolis men after a gun shop owner was fatally shot during a weekend robbery.
According to the Jennings County Sheriff's Department, Dejaun Worthen, 23, Darion Harris, 20, and Darryl Worthen, 24, were arrested on charges of murder and robbery. All three suspects are from Indianapolis.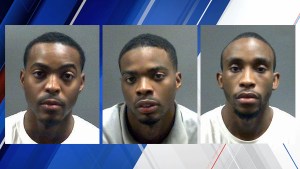 On Sunday, officers found Scott Maxie, 61, dead at Muscatatuck Outdoors, the gun store he owned at 8485 W County Road 200 S in North Vernon. Investigators said Maxie was shot in the head and killed inside the store.
Police said 47 guns were stolen from the business; four of them have been recovered. The ATF said the theft included handguns and long guns. The federal agency is offering a reward of up to $10,000 for information in the case.
All three suspects have been taken to the Jennings County Jail and are being held without bond.