This is an archived article and the information in the article may be outdated. Please look at the time stamp on the story to see when it was last updated.
NOTE: The following story contains graphic and disturbing details. Viewer discretion strongly advised.
SPENCER, Ind. (March 28, 2016) – A man accused in the death of 1-year-old Shaylyn Ammerman faces additional charges in connection with the case.
Kyle Parker, 22, appeared in court Monday afternoon. He asked the court to appoint an attorney and pleaded not guilty in the case. Online records show Parker is charged with rape, murder, child molesting, kidnapping, strangulation and aggravated battery in the case, in addition to obstruction of justice and failure to report a dead body.
Police took Parker into custody on Thursday, the same day they found the 14-month-old's body near the White River in Gosport. An autopsy showed the girl died from asphyxiation.
Parker was at the Ammerman home the night Shaylyn disappeared. Her family reported her missing Wednesday morning. Her father said his mother put Shaylyn to bed late Tuesday; when they woke up in the morning, she was gone. Her disappearance set off a massive search for the little girl involving multiple law enforcement agencies.
Court documents released Monday showed Parker abducted and raped the girl; he then attempted to pin it on one of her family members, using bleach on the girl's body and his own in an attempt to destroy evidence. A medical examiner said this was "the worst case of sexual trauma she had seen in her career."
The night of Shaylyn's disappearance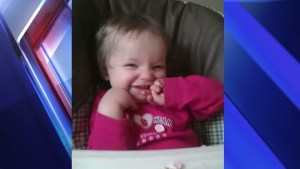 Several people were at the Ammerman home in Spencer on Tuesday night, including the girl's father, Justin Ammerman; his brother, Adam Ammerman; and Ammerman's mother, Tammy Morgan.
In addition, officers were told a friend of Adam Ammerman "had also spent the night but left during the night at an unknown time. The friend was only identified as Kyle at the present time and was driving a maroon Pontiac Grand Am," court documents said.
Justin Ammerman said he went to bed around 11 p.m., about an hour after his mother, Tammy Morgan, put Shaylyn in her crib. Shortly after Ammerman went to bed, he said his brother, Adam, and a friend, Kyle Parker, invited him to drink with them. Justin Ammerman said he declined and went to bed.
When he woke up Wednesday morning, he couldn't find Shaylyn and went to see if she was with his mother. He then called 911. He asked his brother to walk around the house to see if she was in the yard.
When Kyle Parker left the house
Ammerman said Parker was gone when he woke up; his brother, Adam, said Parker had left around 3 a.m. or 4 a.m. on Wednesday.
Adam Ammerman said he and Parker went to the liquor store to buy alcohol on Tuesday. Around 3 or 4 a.m. Wednesday, he said he heard the sound of the front door shutting. He realized Parker was gone; he looked outside the window to see Parker "walking away from the house" and "carrying something." He yelled goodbye to Parker, but Parker didn't turn around.
Adam Ammerman said he "thought he saw a foot dangling from Kyle (Parker's) side but was not certain so he went back to bed."
A disturbing history
Adam Ammerman told investigators that his mother walked into the house one day and found Parker, who was intoxicated, sitting in a rocking chair and holding Shalyn in his lap. When Tammy Morgan asked Adam about Parker's interests, he said "Kyle preferred to watch pornographic movies which featured people being spanked."
Friends of Parker said he "drank a lot" and would "often get naked when drunk." They also said Parker was "attracted to younger girls in the 12- to 14-year-old range."
Parker's first interview
When interviewed by police, Parker said he left the Ammerman home around 12:30 a.m. or 1:35 a.m. on Wednesday. He recalled Adam Ammerman leaning out of a window to say goodbye and then said he drove to a friend's house. He said he sat in their garage and listened to music until his friends woke up in the morning for work. They let him in around 3:20 a.m., he claimed.
Parker had told his stepsister's mother that he planned to stay the night at the Ammerman residence. Parker told police he intended to do that, but changed his mind. He said he "just did not feel like spending the night" when asked why he left the home.
Parker had numerous scratches on his forearms and hands that appeared to be fresh injuries, court documents said. He claimed they were from cats at his house and insisted they were older wounds.
Locating Shaylyn's body
Parker's stepfather called police on Wednesday night to say Parker was willing to cooperate. When asked if he was involved in Shaylyn's disappearance, Parker didn't answer directly, but he did nod "in an affirmative response." He initially declined to lead investigators to her body, but later agreed to show them the location on a map.
Parker "stated that the location was east of Gosport and it was off of an access road that ran north and south" between the railroad tracks and Indian Creek.
Parker "advised Shaylyn's body was on the side of the tree that faces the road." He said it was "too dark for him to determine if Shaylyn was clothed but he did not believe so."
Attempting to shift the blame
Parker said he didn't carry Shaylyn, but another man did, saying it was either "Adam or Justin Ammerman but he would not tell which one."
Parker said authorities "shouldn't find any of his DNA on Shaylyn's body." He tried to pin the girl's death on Adam Ammerman, court documents said, though investigators said they didn't believe him, informing him that Adam Ammerman had passed a polygraph test.
When investigators found the girl's body, they also discovered a burn pile nearby that may contain her clothes and other evidence.
Mike Patton, Parker's stepfather, said his stepson told him "the police would have the truth once they found Shaylyn's body and the DNA with it." Patton said he "knew right then that Kyle had taken Shaylyn and raped and killed her," court documents said.
'Worst case of sexual trauma'
An autopsy showed the girl died from asphyxiation; the injuries all over her body were consistent with a sexual assault. Dr. Donna Stewart, who performed the autopsy at the Kentucky Medical Examiner's Office in Louisville, Ky., told investigators that this was "the worst case of sexual trauma she had seen in her career."
The girl suffered multiple hemorrhages to her face and had a laceration on the upper left lip and a contusion on the lower left lip. She "suffered from multiple cutaneous abrasions and contusions to multiple body regions" in addition to severe trauma to her private areas.
A stepson's confession
Parker's stepfather called police on Sunday to inform them that Parker had confessed to the crime. Patton said he "could not live with himself if he did not tell" investigators what happened.
Patton said Parker confirmed he'd acted alone in Shaylyn's death and disappearance. She was alive and dressed when he took her from the home. He put her in his car and drove until he pulled over to the side of the road and raped her; he then smothered her with "some type of cloth that he already had in the vehicle," court documents said.
Parker poured bleach on Shaylyn's body in order to conceal any traces of his DNA, Parker told his stepfather, and also used bleach to wipe down his own body. He then burned her clothes and pacifier; he told his stepfather that he hoped he would create "reasonable doubt by using the bleach to destroy DNA and confuse the investigators by accusing a family member."
Parker said he hoped that would be enough to prevent charges from being filed in the case.
Parker's sister, Bree Smith, released a statement Monday:
"It is awful my heart is broken, I pray to God my brother didn't do it. I love my brother, I'm in shock and I just can't believe any of these charges… I'm so upset."
Prosecutors say because the graphic nature of the allegations, they have not ruled out seeking the death penalty.
"These types of allegations are just atrocious," said Owen county prosecutor Donald Vandermoere.
Prosecutors say the death has taken an emotional toll on the city of Spencer and all the law enforcement working the case.
"This is the first time in my tenure I've seen grown law enforcement wincing in pain.  It's just horrible," said Vandermoere.
Shaylyn's funeral is scheduled for Wednesday at the Christian Life Center in Spencer. Visitation will be held starting at 3 p.m. A private burial will be held at Chambersville Cemetery.