This is an archived article and the information in the article may be outdated. Please look at the time stamp on the story to see when it was last updated.
GREENWOOD (August 10, 2015) – Greenwood Police arrested a woman at a newly-opened spa after they say a massage crossed the legal line.
The Golden Spa, located at U.S. 31 and Main Street opened for business last Monday without receiving the necessary massage parlor permits, according to police.  A Greenwood officer went into the parlor last Wednesday and ordered a one-hour massage, expecting to fine the business for operating illegally.
But then, according to police, the massage went too far.
The officer says the Golden Spa employee began to touch and rub him in the groin area.  The officer says the woman asked "you like?"  44-year old Zhi Huang was then arrested on a preliminary charge of prostitution.
"Performing illegal acts, seducing people in that establishment, we don't want that type of behavior going on here in Greenwood," said Greenwood Police spokesperson Kortney Burrello.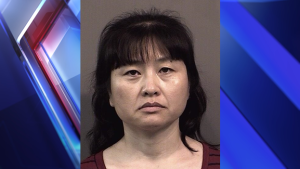 Police say Huang told them she had just arrived in Indiana from New York two days prior to her arrest after answering an advertisement for work in a Chinese publication.  Investigators believe Huang, and the spa's owner, Yuhua Tan, were both living out of suitcases inside the business.
When FOX59 visited the business Monday morning, the Golden Spa was still without a permit to operate.  But the "open" sign in the front window was turned on.
When we walked in the front door and asked about the sign, Tan said it was a mistake and turned it off.
Tan said Huang was no longer employed at the Golden Spa.  She said she had no knowledge of Huang having illegal contact with employees prior to her arrest, and she never instructed Huang to engage in any illegal activity.
"Police say she do something, I say okay, you go," Tan said.
Greenwood investigators are concerned that the situation could be part of a larger, organized sex trade from overseas.  Burrello says police offered to help Huang if she was caught up in any kind of human trafficking situation.  But Huang denied that, and declined the offer.
Tan said Huang had already traveled back to New York.
Meantime, Tan says she can probably wait another week for a massage parlor license before she will have to close the business and go back to her home in Florida.
Greenwood Police, who are in charge of issuing city massage parlor permits, have no intention of giving a permit to the Golden Spa.
"And then hopefully another reputable company or business to come in and lease that property," Burrello said.