This is an archived article and the information in the article may be outdated. Please look at the time stamp on the story to see when it was last updated.
UPDATE: Accomplice Steven Clark was sentenced to 16 years in the Department of Correction with 373 days credit for time served. Cruz was sentenced to life in prison without parole.
INDIANAPOLIS, Ind.– An east side Indianapolis man faces 17 charges in connection with a four-day, "Purge-style" crime spree in mid May.
Jonathan Cruz, 19, is accused of committing three murders between May 12-15. Investigators say he killed Billy Boyd near 40th Street and College Avenue and Jay Higginbotham in the 900 block of North Denny Street on May 12.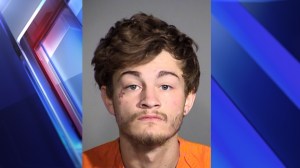 On the following Sunday, Cruz is accused of killing Jose Ruiz inside his car at 16th Street and North Linwood Avenue.
Cruz is being held on charges that he kidnapped a woman at gunpoint that same week. The victim told investigators Cruz was killing and robbing victims on the east side.
Cruz allegedly sent text messages that referenced the movie.
Court documents show he seemingly picked his victims at random. Prosecutors could potentially ask for the death penalty for Cruz.
"The charges against Mr. Cruz arise out of statements made to several witnesses, photos, videos and text messages taken from a phone seized from him when he was arrested on May 16," said Marion County Prosecutor Terry Curry.
He's also suspected in a robbery during the crime spree, which occurred on May 14. Steven Clark, aka Rayvaugh Wood, has also been charged in that crime.
Cruz was also known as "Sav Hunna," according to court documents.
Cruz has been charged with a total of 17 charges, including:
Three murder charges for each of the three murder victims
Attempted robbery resulting in serious bodily injury (Level 2 Felony)
Two counts of robbery resulting in serious bodily injury (Level 2 Felony)
Armed robbery (Level 3 Felony)
Intimidation (Level 5 Felony)
Two counts of pointing a firearm (Level 6 Felony)
Criminal gang enhancement
Marion County Prosecutor Terry Curry referenced the movie "The Purge" during a press conference Wednesday. In the movie, one day a year, the government allows all crime without fear of prosecution.
He said Cruz went on a four-day, one-man purge. Curry said Cruz made statements to witness that he was going "purging" and he posted explicit messages including "I purge every night now."
Officials found videos from shootings and various gang-related activities on his phone.
Court documents show he allegedly told the kidnapping victim that he had killed before.
"Another body wouldn't mean anything," he said, according to court documents.
The documents show he took screenshots of FOX59 stories about the murders and sent them to his mother.
"What r u doin," his mother asked. Cruz replied with two screenshots of FOX59 stories about the murders.

"Delete those after u read it," he said to her.

"Do u know they can still pull up deleted history," she replied.

"Yep Ima get a new phone soon say mine was stolen," he replied back.
He sent the screenshots to other people on Facebook Messenger, saying he needed to sell a gun and find another one quickly. He discussed getting bullets as well and trading them for drugs.
At one point, he spoke to the mother of one of his girlfriends, saying he needed to get out of town. "4 bodies 187 need to leave asap," a text reads. "187" is a slang reference to murder. The woman replies that she will put him in a hotel and they discuss him going to Arizona, New York, Alabama and Georgia. She told him to delete his Facebook account and change his appearance.
The arrest stems from statements from witnesses and victims, Curry said. During the investigation, detectives reportedly recovered two guns. Some of the statements had been reportedly threatened previously by Cruz, according to court documents.
Cruz was already being held on $200,000 bond in a separate matter for which he was charged with criminal confinement, kidnapping and intimidation.
Indianapolis Mayor Joe Hogsett issued this statement:
"I want to commend the hard work of the Indianapolis Metropolitan Police Department and Marion County Prosecutor's Office that resulted in the filing of today's charges. Senseless acts of violence such as those alleged in this case are incomprehensible, but thanks to the swift actions of IMPD detectives, Prosecutor Terry Curry and witnesses willing to come forward, we are one step closer to providing answers for these victims' families."