This is an archived article and the information in the article may be outdated. Please look at the time stamp on the story to see when it was last updated.
INDIANAPOLIS (July 14, 2014) – The SWAT team was called to the east side of Indianapolis Monday after a person was wounded in the neck.
It happened around noon in apartments located in the 3600 block of Wingate Terrace. Upon arrival, officers located an man inside the apartment with significant neck trauma. He was taken to Eskenazi Hospital in critical condition.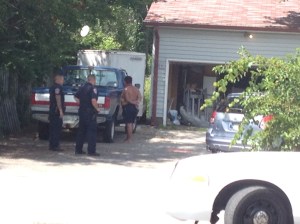 Investigators found a panel to the attic was disturbed; all attics in the apartment complex are connected, and police said the suspect may have used them to enter or exit. SWAT remained on scene because the suspect was still thought to be at large.
After receiving information from the public about the suspect, officers were sent to the 9600 block of 38th St., which is the suspect's last known address.
Around 3:15 p.m., the suspect surrendered himself and was taken into custody without incident.
Detectives arrested Jesus Martinez, 36, of Indianapolis on preliminary charges of aggravated battery and battery with a deadly weapon.
He is accused of stabbing Alan Castellanos, 28, in the neck. The victim continues to recover at Eskenazi Hospital and is listed in critical but stable condition as of Monday night.