This is an archived article and the information in the article may be outdated. Please look at the time stamp on the story to see when it was last updated.
INDIANAPOLIS, Ind. — Video taken at the Indiana State Fair Tuesday shows police responding to an incident where two people were injured by a woman allegedly wielding a knife.
"It was an isolated incident targeted at specific people," said Indiana State Police Sgt. Stephen Wheeles.
The incident occurred in the midway area, where a lot of crowds gather. The attack started as an altercation between a group of women, police say.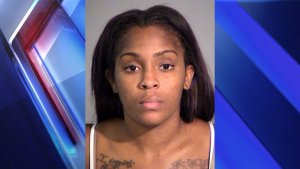 In the video, police are seen restraining several women and tackling one to the ground as she ran away. The woman was then placed in handcuffs.
Keionyae Gray, 24, was arrested on a preliminary charge of aggravated battery. State police say she used a box cutter-type knife. She is not the woman who was placed in handcuffs at the end of the video.
"A knife was used and it caused injury to other people. She began flailing it around and actually cut two of the other people that were in the altercation with her," said Sgt. Wheeles.
The victims suffered minor superficial wounds and were treated at the scene.
Editor's note: Video above provided by Beau Masters.
Indiana State Fair Commission Communications Manager Sharon Smith issued this statement:
The Indiana State Fair is committed to providing a safe and fun experience for all who attend the fair. Our security team works closely with law enforcement to protect the public by using both proactive and reactive measures to ensure the safety and security of fairgoers. Last evening we experienced an isolated incident on the Midway. This incident was handled swiftly by the Indiana State Police.
Smith says the fair's no weapons policy is publicized at gates, online and in printed materials.
This is not the place to come and start trouble, we can assure you that we will take action to make sure you do not do it again. We will also ban those people from the property and make it illegal to show back up on the grounds," said Sgt. Wheeles.