This is an archived article and the information in the article may be outdated. Please look at the time stamp on the story to see when it was last updated.
IndyGo is stepping up to help a young man who trudged through the cold weather for the chance to land a job.
Jhaqueil Reagan was making a long trek in cold weather, when he had a chance encounter with the owner of Papa Roux Cajun cooking.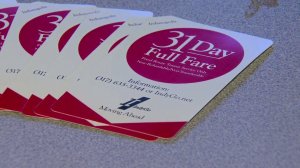 Owner Art Bouvier gave the teen a ride and then decided to give him a job at the restaurant after seeing his commitment to getting a job by walking for miles in the snow.
The kindness spread. Now, IndyGo is presenting Reagan with a bus pass so he can get to his new job and back home again without having to walk.
"Just seeing someone with that type of determination, you can't do anything but help," said Paula Haskin.
Haskin said she saw the story on Fox59 and was inspired to help. She spoke with her supervisor to get Reagan the year-long bus pass.
Related Stories: