This is an archived article and the information in the article may be outdated. Please look at the time stamp on the story to see when it was last updated.
UPDATE: Shana Taylor appeared in court on Jan. 3, 2017 and pleaded guilty to three felony counts of dissemination of matter harmful to minors. She will serve six years on home detention. All other charges will be dropped.
INDIANAPOLIS, Ind. (March 4, 2016) – Facing scrutiny in the face of slow reporting of sexual misconduct allegations involving an IPS counselor, IPS Superintendent Dr. Lewis Ferebee called the failure to immediately report the allegations a "clear case of incompetence."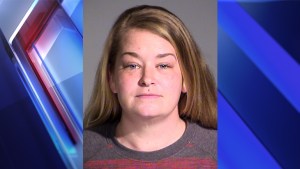 During a news conference Friday, Ferebee pledged that employees who failed to immediately report the allegations to DCS would face disciplinary action. He also recommended that the employment of Shana Taylor, the counselor at the center of the case, be terminated. A short time later, the school board voted unanimously to terminate Taylor, citing "gross misconduct."
Ferebee says employees were aware of their responsibilities and failed to follow policy. He said he initially thought the proper protocols had been followed, but interviews with employees later showed that wasn't the case. He said a "tangle of miscommunication" led to failures on the part of administrators.
In the timeline Ferebee laid out, a parent approached an assistant principal on Feb. 17 about inappropriate contact between Taylor and a student. He said there were no indications of problems with Taylor before the parent reported them. Ferebee himself was made aware of the allegations on Feb. 17, when they were first reported to school administrators, but was told that all school protocols were being followed and thought a DCS report had been filed.
The assistant principal consulted with the principal who was on medical leave but returned to address the situation.
"Neither administrator contacted child services," Ferebee said. "According to state statute, board policy and administrative guidelines, when a school administrator or any staff member is notified or learns of inappropriate relationships with students, he or she must report that immediately.
"In this situation, that did not occur."
Ferebee said the assistant principal contacted the director of student services. The director assumed the administrators had followed the first step in the policy and reported the allegations to DCS, Ferebee said. The assistant principal was told to contact human resources to address Taylor. Human resources again made an assumption that the allegations had been reported and took steps to make sure Taylor had no further access to students or IPS facilities.
"It appears that everyone involved focused on isolating the employee," Ferebee said. "However all who were involved and knowledgeable of the relevant facts agreed they were aware of their reporting allegations."
Ferebee called the miscommunication "disappointing" and said staff members made too many assumptions about someone else adhering to the policy. The error was discovered on Feb. 22. A report went to state officials on Feb. 23, something Ferebee called "another unacceptable delay."
Ferebee said it wasn't a case of a cover up. He believed employees had the safety of students in mind and wanted to make sure Taylor would be punished.
"Still, that effort does not negate the fact that employees who had relevant facts did not fulfill their responsibilities," he said.
Ferebee said he was "disturbed" about the delay in reporting.
"This is a clear case of incompetence," he said. "And administration will work aggressively and issue discipline accordingly."
"Very disappointed in the incompetence of our employees, one not reporting, but secondly, not adhering to policy and administrative procedures," he said.
Ferebee said Taylor is still under investigation and won't report to IPS in any capacity. He said the district won't be "tainted" by the acts of an individual.
The superintendent said district-wide training will be mandated to train employees and remind them of their responsibility to report cases like Taylor's.
Ferebee's news conference on Friday comes after a Thursday morning memo sent from IPS leadership to all employees informing them that Ferebee "has called for an independent investigation into whether and how any reporting breakdown might have occurred."
The IPS Board of School Commissioners also has a planned retreat for Friday at 2:30 p.m. at Arsenal Tech. The board will go into executive session at 5:30.
IMPD Chief Troy Riggs said he can't talk specifically about an open investigation, but he said delays of any kind are detrimental.
"Anytime there's any child abuse cases or any type of crime we want to know about it instantly," said Riggs, "It's always a concern when there's a gap in time."
It took IPS officials six days to file a formal report with Indiana's Department of Child Services about Taylor's alleged sexual conduct with students, according to court documents.
"I can understand going to the school, but I would encourage people, the first thing they need to realize, is a crime has been committed and call the police department. Get the police department involved immediately," Riggs said.
According to Indiana law, anyone must report suspected child abuse or neglect immediately. Park Tudor faced scrutiny in early February for withholding evidence from authorities about a sexually explicit relationship between former coach Kyle Cox and a 15-year-old student.
Riggs said more training is needed, which is something Ferebee cited while speaking to the media Friday.
"Teachers, principals, need to be aware that when these allegations are made, they have a responsibility to reach out to the police department immediately as well. I think there's an education process that needs to continue as well throughout this city," said Riggs.
FOX59 reached out to all IPS Board of Commissioners members for comment Thursday night.
Vice-President Sam Odle responded and said, "This is still under investigation, when we have all the facts IPS will communicate that."
.@FerebeeIPS says Assistant Principal and Principal knew of sex allegations and failed to report to DCS pic.twitter.com/slPXp9vk6S

— James Gherardi (@JamesGherardi) March 4, 2016
.@IPSSchools Board votes unanimously to terminate Shana Taylor for "gross misconduct" at today's board meeting pic.twitter.com/12DvrI8gjz

— James Gherardi (@JamesGherardi) March 4, 2016
Previous stories: