This is an archived article and the information in the article may be outdated. Please look at the time stamp on the story to see when it was last updated.
(February 26, 2015) – Court documents provide new details about a man arrested along Ronald Reagan Parkway near Indianapolis International Airport on the same day Pres. Barack Obama visited Indianapolis.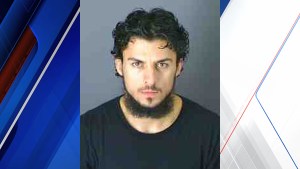 Twenty-six-year-old Nihad Rosic of Utica, N.Y., was part of a group of six Bosnians accused of helping ISIS. He is charged with funneling money and weapons to ISIS in the Middle East as well as conspiring to kill and maim persons in a foreign country. The warrant for his arrest was issued out of St. Louis County on Feb. 5. He was in the Marion County Jail from Feb. 6 through Feb. 11 before being transported to a jail in Missouri which is where the case will be tried.
These court documents show that Rosic, also known as Yahya AbuAyesha Mudzahid, immigrated to the United States and is a naturalized American citizen. It is unknown why Rosic was in Plainfield at the time of his arrest.
The other five people who were arrested are Mediha Medy Salkicevic, 34 of Schiller Park, Illinois; Jasminka Ramic, 42, of Rockford, Illinois; and Ramiz Zijad Hodzic, 40, his wife Sedina Unkic Hodzic, 35, and Armin Harcevic, 37, all of St. Louis County, Missouri.
If convicted, the crimes of conspiring to provide material support and providing material support carry penalties ranging from 15 years for each count and fines up to $250,000. Rosic's crime of conspiring to kill and maim persons in a foreign country carries a penalty of up to life in prison.