This is an archived article and the information in the article may be outdated. Please look at the time stamp on the story to see when it was last updated.
NEW CASTLE, Ind. (Aug. 11, 2015) – Indiana State Police arrested a New Castle grandfather accused of pointing a handgun at his grandson on school property in May.
Monday afternoon, police arrested Donald E. Rice, 76, on a charge of pointing a firearm. According to state police, Rice drove his 12-year-old grandson to school on May 21. While the two sat in Rice's SUV in the parking lot at Shenandoah Middle School, Rice pointed the handgun at his grandson while showing him the firearm.
Rice's grandson took a picture of the incident and provided it to police. After an investigation, the Henry County Prosecutor's Office issued the arrest warrant.
The photo shows Rice wearing a hat saying "dysfunctional veteran" as he points the gun at his grandson. Rice was banned from school property as a result of the incident.
In court paperwork, an officer said it was another family member who reported the incident. When that officer talked to the grandson, he said "he told his grandfather to stop because it was worrying him" and that Rice then "...poked his leg with the barrel of the weapon and said that a gun will not just hurt you on its own." The boy told police "he did not feel threatened but thought it was very dangerous.
Lawyer Guy Relford specializes in gun laws and training -- and is a second amendment advocate.
"If you point that gun at another person, it's a crime," Relford said.
Relford pointed out that many gun owners don't know all of the laws, since Indiana code when it comes to guns can be complicated. He said that if you point your gun at anyone, unless you're being attacked, it can land you in prison.
"If he pointed that gun at his grandson, loaded, unloaded, I don't care. That is dramatically unsafe and irresponsible," Relford said.
Relford said that even as a second amendment advocate, the case is "offensive" to responsible gun owners.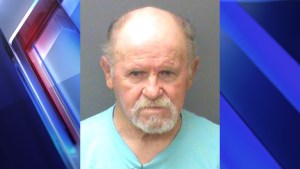 Rice told investigators the loaded gun was actually pointed toward the bottom of the passenger side door, court documents said. He admitted it was a "stupid thing" to do and asked his grandson to delete the photo. He said he wasn't threatening his grandson and would never hurt him. He also said he "posed" for the picture after the boy asked if he could snap a photo of him with his gun.
Rice maintained the incident was a "set up" due to an ongoing custody dispute, court documents said.