This is an archived article and the information in the article may be outdated. Please look at the time stamp on the story to see when it was last updated.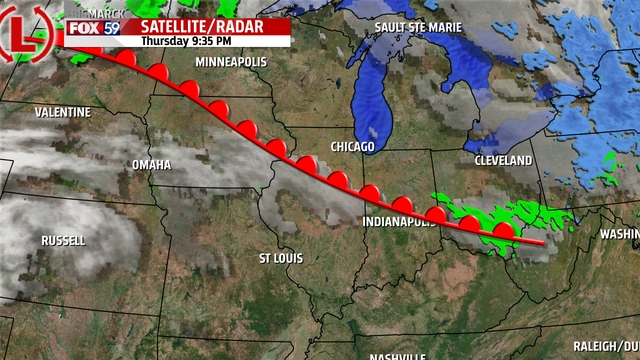 The roller coaster ride of up and down temperatures continues into the weekend with highs today expected to hit the mid 60s!  Don't get used to it as starting overnight tonight a cooling trend will last through most of next week.
For tonight we will have a chance for rain as a cold front passes by.  The best chance for any precipitation will be to our north where there will be just a little more lift provided by the front.  I think most, if not everyone, south of I-70 won't see any rain.  Light rain showers will be possible for a couple of hours around midnight for the city.  If you live in Delaware or Madison counties you may hear a clap of thunder as the system is passing you by.
Behind the front Saturday temperatures won't be nearly as warm as today with highs in the mid to upper 40s.  Bloomington may hit 50°.  Tonight's front is just the first in a series of fronts that will impact us over the weekend.  By the time we get to Sunday we will be looking at highs near 40!  Expect temperatures to be even colder during the start of your work week next week with highs stuck in the 30s from Monday through Wednesday.  There will be a chance for some light snow on Tuesday but it should not have an impact on travel for area roads.