This is an archived article and the information in the article may be outdated. Please look at the time stamp on the story to see when it was last updated.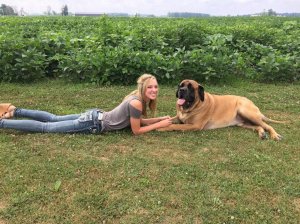 JAY COUNTY, Ind. – An Indiana family was reunited with their beloved dog after they thought he was lost forever following a tornado.
Emilie Walter was at home in Jay County with her boyfriend Brandon Dailey on Sunday while the rest of her family was in Muncie.
Her dogs indicated to her they wanted to go outside, and when she let them out, she noticed the clouds looked unusual.
Dailey told her they needed to take shelter immediately—it was a tornado. There was no time to round up Walter's dogs, and unfortunately, she was forced to leave them behind.
Dailey and Walter got in the a car and drove as far as possible before the storm caught up with them. They pulled over to the side of the road and took shelter in a ditch. They watched as the tornado obliterated Walter's home.
When they returned, everything was destroyed, and her English Mastiff named Jeb was missing.
They searched for Jeb until nightfall, and Walter put out a plea for help on social media. Within hours, her Facebook post had over 10,000 shares.
"I was so, so worried all night. There was nothing I could do to find him because it was so dark and muddy; I hardy slept," Walter told FOX59.
As they were beginning to lose hope, Walter spotted Jeb in a nearby cornfield. "When he realized who I was, he laid down and wagged his tail and wanted to cuddle," Walter said.
Jeb was treated at the vet's office for some minor injuries. He had a few scratches and some bloating.
Walter says the outpouring of support from the community has been remarkable. Local residents have come out to help them clean debris and donate food and clothing. Someone even paid for Jeb's vet bills.
"I appreciate everything everyone has done for us. It has made this so much easier to bear," Walter said.