This is an archived article and the information in the article may be outdated. Please look at the time stamp on the story to see when it was last updated.
BOONE COUNTY, Ind. – A Boone County judge will soon decide if a lawsuit filed by the ex-wife of former Subway spokesman Jared Fogle should be dismissed.
Katie McLaughlin filed a lawsuit against Subway claiming the company was aware of Fogle's sexual interest in children but didn't take action despite warnings. McLauglin also said Subway didn't have her authorization to use her likeness and those of the couple's two children for an advertising campaign.
The campaign was launched just months before federal authorities raided Fogle's Zionsville home. Fogle was later convicted on charges of possessing or distributing child pornography and traveling across state lines to have sex with a minor. He was sentenced to 15 years in prison.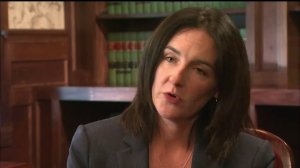 Fogle's ex-wife filed the lawsuit in October 2016, alleging invasion of privacy/misappropriation of likeness, intentional infliction of emotional distress, negligence, negligence per se, and right of publicity.
A judge will hear arguments on the motion to dismiss Monday afternoon.
Court documents filed in the case said Subway received at least three reports regarding Fogle's sexual activity with children but didn't report anything to law enforcement. The lawsuit claims Subway put its own financial interests ahead of protecting children by failing to adequately investigate the claims.
In March, the case was moved to Boone County after a change of venue request from Subway. The defendants in the case (Doctor's Associates, Inc., doing business as Subway; Franchise World Headquarters LLC.; and Subway Franchisee Advertising Fund Trust) filed a motion to dismiss in December, claiming Indiana courts didn't have jurisdiction because the allegations involved conduct that didn't happen in Indiana.
McLaughlin and Fogle got engaged in 2009 and married in 2010. She said Subway never informed her about the allegations regarding his conduct with children and only learned about them when the FBI raided their home in July 2015.
She and her attorneys claim that Subway hoped Fogle's marriage could "correct" his pedophilia behavior.
She announced her decision to seek a divorce with Fogle in August 2015 after he made his first court appearance in the case. The divorce settlement, which was finalized in November 2015, awarded McLaughlin $7 million.