This is an archived article and the information in the article may be outdated. Please look at the time stamp on the story to see when it was last updated.
INDIANAPOLIS, Ind. – Lady Gaga is giving her fans in Indianapolis a "Million Reasons" to love her even more.
When the singer was in town for a concert at Bankers Life Sunday, she put out a call to her fans to bring clothes to donate to an IUPUI student's cause.
Taylor Parker was selected by Gaga's Born This Way Foundation to receive help for a clothing and feminine products collection drive.
The items are particularly for LGBTQ students and students who may need the extra help.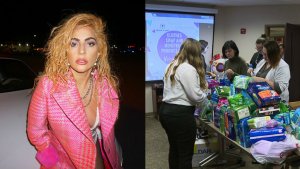 "I'm just very grateful that people with a platform are seeing that this is an issue and make change because 'regular people' or people without a platform want to help but they don't know how to do so efficiently and when people with a platform use their voice to encourage others to give back, it creates immense change and this could not have happened without that involvement, " said Parker. "She sent out a message to all of her fans saying that this is something near and dear to her heart and she really hopes that we can find the place in our hearts to donate to this cause and to see that it's an issue beyond just this event but to keep this sustainably going."
Parker has been recognized as the fourth Channel Kindness Award winner. The philanthropy student was selected based on her commitment to improving her community through kindness and for her idea to host the collection drive.
"I am so excited and so grateful," said Parker. "I don't have enough adjectives to explain how I feel about this."
A winner will be selected at each of Gaga's concert stops through Dec. 18.