This is an archived article and the information in the article may be outdated. Please look at the time stamp on the story to see when it was last updated.
INDIANAPOLIS, Ind. -- One of the greatest Pacers of all time now towers over downtown Indy for all to see.
Artist Pamela Bliss is putting the finishing touches on her 60-foot mural of Hall of Famer, Reggie Miller.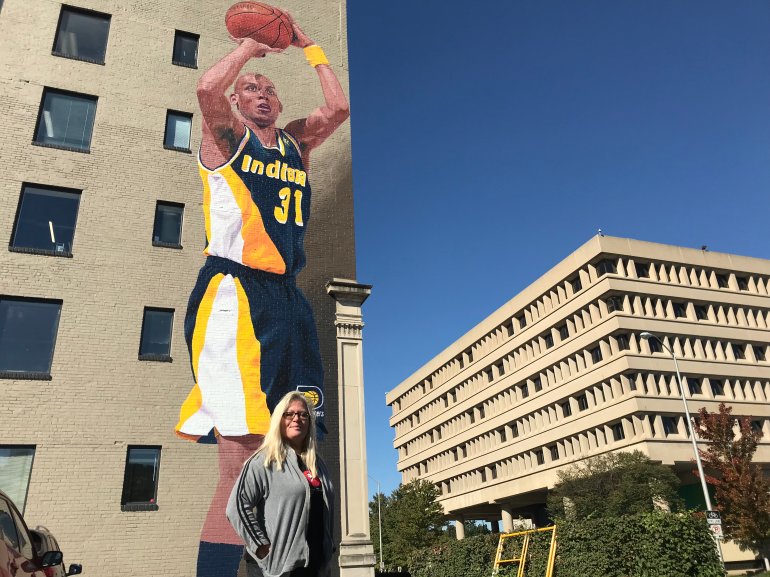 The mural is located on an office building at the southwest corner of Michigan and Delaware streets, just four blocks north of Monument Circle.
Bliss said Ben and Ali Jafari own the building and asked her to paint the mural of Reggie as a gift to the people of Indiana.
The painting depicts Miller from his days as a Pacer in the mid 1990's and took Bliss about a month to complete.
"I started at the top," Bliss said. "The basketball is seven feet tall and the wristband is three feet tall and the eyeball is ten inches wide."
Bliss, who also painted the famous Kurt Vonnegut mural along Mass Ave., says this one symbolizes history.
"There are so many people who love Reggie and remember that time," Bliss said. "It was an exciting time for Indiana. There was a lot of Hoosier pride."
Miller retired in 2005 after leading the Pacers to the NBA Finals in 2000.
The mural celebrates Miller's more than 2,500 three-pointers in his career.
Bliss said a dedication is in the works for next year so Miller can see the mural in-person and celebrate with Hoosiers.