This is an archived article and the information in the article may be outdated. Please look at the time stamp on the story to see when it was last updated.
INDIANAPOLIS, Ind. — The news surprised basketball fans Friday, and Larry Bird made it official Monday, stepping down as president of the Indiana Pacers.
Bird, 60, will stay with the team in a role as a front office consultant. Kevin Pritchard, current executive vice president of basketball operations/general manager, will assume Bird's position.
Bird said it was simply "time" for him to step away from his role as full-time Pacers president and expressed a desire to spend more time with his wife and family.
"Everything has just come together. It's just time to go," Bird said.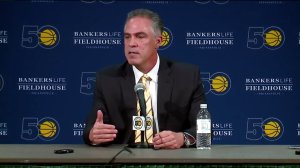 If Pritchard, 49, needs help, Bird said he won't be too far away.
"This is Kevin's team," Bird said. "If he's got a question or he wants some help on certain things, I'll be glad to help."
Bird–and his successor, Pritchard–shied away from using the world "rebuilding" in terms of the Pacers roster. Both preferred to use the term "retool."
The news broke Friday that Bird would step down. He's been with the Pacers since 1997 when he joined the team as the head coach, a role he stayed at until 2000. In 2003, he became president of basketball operations, a position he held until 2012, when he said he was stepping down for health reasons. He returned in 2013 after a year away.
He's the the only person in NBA history to be named MVP, coach of the year and executive of the year.
Big decisions are looming for the Pacers. Paul George hasn't announced if he'll stay with the team. Both Bird and Pritchard expressed some optimism that George would stay. Pritchard mentioned that he sat down for exit interviews with George after the season, and in all scenarios, George spoke as if he was still with the team.
But the star also reiterated his desire to win and return to the Eastern Conference Finals. Pritchard said he needs to surround the star with winning talent. The new Pacers president also wants to add a "tougher" mindset to the team, which struggled so much on the road during the season.
"We're on the same page," Pritchard said, referring to George's desire to win.
Pritchard, who was an executive for the Portland Trail Blazers during their 2007-2010 turnaround, described himself as an "Indiana boy" who grew up in Lawrence and Noblesville. He understands the importance of basketball in Indiana at all levels.
"I know how important it is," he said. "I know we can build and continue to build."
Pritchard spoke highly of Lance Stephenson, saying his return galvanized the team during a late-season playoff push. He wants to retain Jeff Teague and said the point guard wants to stay in Indianapolis.
He also said Bird will continue to have an influence in the team in the near future.
"If we have a free agent, Larry will be in the meeting," he said. "Larry is still a consultant. Larry will do anything for the Pacers."