This is an archived article and the information in the article may be outdated. Please look at the time stamp on the story to see when it was last updated.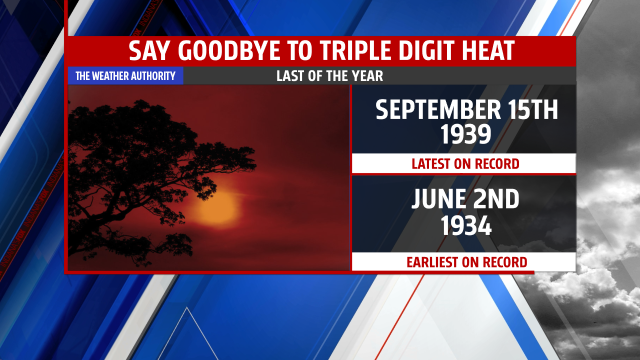 September 15th marks the latest date on calendar for us to see 100s here in Indianapolis.  It doesn't look like we will be pushing back the date this year as temperatures on the seven day forecast won't hit the 90s.  If you're wondering the earliest date for hitting the 100s is June 2nd.
Looking at your forecast for this week, there are no 100s or even 90s in the forecast.  There are a couple of days with a rain chance though that begins tonight.  A fairly week and almost back door front will slide through bringing with it some ran.  It won't be much overnight for Indianapolis and surrounding communities with only about a fifth of an inch expected.
We are forecasting highs in the 70s through Tuesday with us warming into the 80s starting on Wednesday.  The gulf heat will also pump in instability from the gulf.  Another slow moving front will be the trigger for more rain at least being possible Thursday and Friday with temperatures warming to the 80s for a couple of days.  Enjoy your week!