This is an archived article and the information in the article may be outdated. Please look at the time stamp on the story to see when it was last updated.
SERIES OF STORMS
It is the  fifth storm system to cross the nation over the past two weeks.  Identified here last week, this storm looks to track south of the state and places most of Central and Northern Indiana in the swath of heavy wet snow.  Last week, a consensus of computer models had the storm south but over the weekend, a few forecasts strayed from the solution.  Late Monday, there is much more agreement now among the suite of models for the southern solution.
Winter storm warnings and advisories extend from North Dakota to Maryland with over a dozen states to be impacted by the storms wintry wrath.  the national Weather Service has extended winter weather advisories as far south as Bloomington and Bedford while upgrading most of Northern Indiana to a winter storm warning.
2 STORMS MERGING
As first forecasted last week, the northern low pressure system will dive south Tuesday morning and slowly phase with a secondary low in the Central Plains.  This low becomes the main storm as it tracks into southeast Kentucky Wednesday morning.  A broad area of accumulating snow will be deposited north of the surface low track.  The position of this low is favorable for heavy snow here.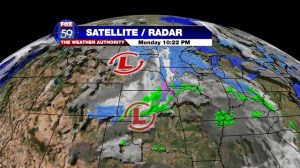 SNOW WILL BE HEAVY AND WET
Accumulation is likely to really ramp up in the city toward sunset Tuesday.  A switch from rain to snow will start from northwest to southeast through the night into early Wednesday morning.  Areas north of Indianapolis are likely to get into the snow earlier and stay in it longer so higher accumulation amounts are likely.
The amount of moisture available for this storm is healthy with liquid amounts estimated off 3 computers at an average of .60″ for the city.  Current forecast are impressive with over a half-foot of snow possible by Wednesday morning.  The average snow for the city among 6 computer models is 4.9″ with a range from 2.9″ top 6.6″.  Late Monday night computer numbers are trending toward the higher tally – with more than 9″ amounts possible in far northern central Indiana including Lafayette, Kokomo, Tipton, Marion and Muncie.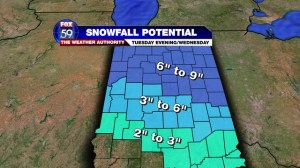 From the RPM Model:
Lafayette 6.8″, Peru 14.6″, Muncie 11.2″ Indianapolis 4.6″, Terre Haute 3.9″ Columbus 1.5″
This is one computer models take and these numbers are not carved in stone. We will refine and update Tuesday.  Be sure to stay tuned.