This is an archived article and the information in the article may be outdated. Please look at the time stamp on the story to see when it was last updated.
LAWRENCE COUNTY, Ind. – A Lawrence County family is asking for dry wall and other building materials so their daughter dying of cancer can live in a new room added onto their house by Thanksgiving.
Tori Kidwell, 26, was diagnosed with stage IV platinum-resistant ovarian cancer in February 2015.
She graduated from Indiana University in May 2014, and she has been living in an apartment with her fiancé in Bloomington.
During her last surgery, the doctor felt that the multiple chemotherapy treatments she endured had not stopped her cancer from spreading. He advised Tori to stop treatment, and he told her she had three to six months to live.
She's currently on a special diet, only able to eat food with a mashed potato consistency, and her daily medical needs are overwhelming. She has severe pain, nausea and vomiting that result in frequent trips to the ER in Bedford.
Tori's fiancé has been very supportive, and they both agree it is best for her to move home so she can be closer to her doctors in Bedford and spend time with her family.
Unfortunately, her family lives in a one-bedroom home and doesn't have enough space for her, so they are adding an extra room to their house. They hoped to have the room finished by Thanksgiving, but they ran out of money and materials to complete it.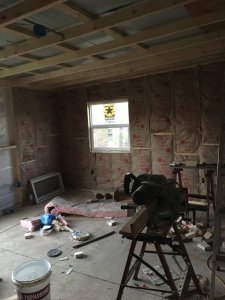 Tori's grandmother Kathy Duckworth made a request on Facebook asking for several dozen sheets of drywall and other building materials, and they've received some donations.
However, the family still needs lots of help. They are looking for drywall materials for finishing the walls, flooring, light fixtures, a small ramp, underpinning for her room, and a memory foam full size mattress and box springs.
"Tori is a fighter and has been very optimistic since the day she was diagnosed," Duckworth said.
If you have any of these materials or if you can help their family in any way, you can email Tori's mother Joy at joyzee0925@yahoo.com or you can reach out to them on Facebook at Support for Tori. Donations can also be sent to Support for Tori Po Box 201 Oolitic, IN 47451.