This is an archived article and the information in the article may be outdated. Please look at the time stamp on the story to see when it was last updated.
INDIANAPOLIS (May 21, 2015) – A Super Bowl-like atmosphere.
That's what Hulman & Co. CEO Mark Miles wants for the 100th Running of the Indianapolis 500 next year. The Indianapolis Motor Speedway will celebrate the milestone for the race, which is scheduled for May 29, 2016. Organizers unveiled the logo for the event Thursday.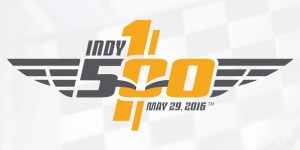 Citing the race's "illustrious past and an even brighter future," Miles said the logo got special attention as the race marks the anniversary.
"It's just hard to express what this race means," Miles said. "The race in a way is about human achievement and the desire to always push the pedal and to always go farther, faster, to innovate. This place has stood for that for all these many years, and we want to celebrate that in a big-time way."
Miles said fans at this year's race will have the chance to buy hats, t-shirts and other merchandise in anticipation of the 100th running. He called it a yearlong celebration and said he invited anyone associated with the race to come to town, including former drivers.
"We're going to make this Super Bowl-like in May 2016," Miles said. "We think that people will be eager to find a way locally…to get involved and be part of the celebration."
Allison Melangton, who had a hand in organizing Indianapolis' well-regarded effort as a Super Bowl host city, said the first thing people do when they learn she's from Indianapolis is to ask her about the race. She says it's important to recognize the local, national and international importance of the race.
"We are the Greatest Spectacle in Racing," she said. "We want to make sure that globally, nationally and locally that we claim that."
She highlighted the importance of reinforcing the Indianapolis Motor Speedway's status as the world's premier racing facility. She said the effort to raise awareness for the 100th running will begin Monday.
A.J. Foyt, the legendary driver and four-time Indy 500 winner, said the allure of the race is unmistakable.
"I dreamed of this," he said of attending his very first Indy 500. "I was sitting there in (turn) two and I was thinking, maybe someday I'll be fortunate enough, lucky enough to have a car to come up here.
"You all only know me from one place, and that's here. I'll continue to come here as long as I live. There's a lot of other races that I go to, but there's only one 500…and I'll continue to come here as long as I can."