This is an archived article and the information in the article may be outdated. Please look at the time stamp on the story to see when it was last updated.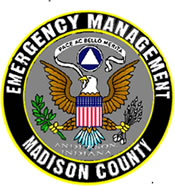 Madison County is turning to social media to keep its citizens informed.
The county's Emergency Management and Homeland Security Agency is now sharing local news, emergency preparedness and emergency information on Facebook and Twitter.
'Like' them on Facebook at http://www.facebook.com/madisoncountyema
Follow them on Twitter at http://www.twitter.com/MadisonCOEMA