This is an archived article and the information in the article may be outdated. Please look at the time stamp on the story to see when it was last updated.
MORGAN COUNTY, Ind.– Police confirm the man arrested in Colorado on Monday and called a person of interest in the murders of Delphi teens Abby Williams and Libby German was living homeless in Morgan County the same week the girls' bodies were found.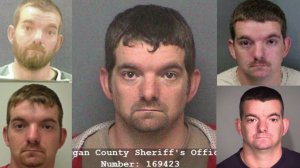 Daniel Nations, 31, was living under bridges in Morgan County when the girls were murdered, according to the Morgan County Sheriff's Department.
"The last address that he reported with us was that he was staying homeless in the area of State Road 67 under the bridges," said Captain Brent Worth.
Due to Nations' status as a homeless person and a convicted sex offender, he was required to check in weekly with an investigator at the Sheriff's Department.
"He came in on February 7, 2017 and then came in on February 14, 2017 and checked in, said Worth.
The girls' bodies were found on Feb. 14. According to documents from authorities, Nations never missed his weekly check-in from Jan. 31 – April 4 this year.
Timeline
Feb. 13: Search efforts begin for Abby and Libby after they were reported missing. Police say nations was living in Morgan County, located about an hour and 45 minutes from the area.
Feb. 14: The girls' bodies are found about a half-mile from the Monon High Bridge. Nations checked in with authorities as required the same day.
Feb. 15: Police release photo of man reportedly walking on the trail at the time of the girls' disappearance.
Feb. 24: Nations is arrested for failing to appear in connection with a small claims case/civil lawsuit.
Feb. 28: Nations is released from the Morgan County Jail.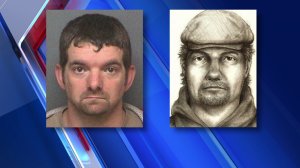 "He was always punctual as far as reporting," said Worth. At this point, he said that he had a car, or did not have a car? There was times where he did and times where he was having vehicle problems I think."
Although Nations checked in the day after the murders, less than two weeks later, he ended up in the Morgan County Jail for failing to show up to a scheduled court appearance.
After that, Nations moved to Johnson County, where officials say he did not notify them of his whereabouts.
Indiana State Police (ISP) are still checking into Nations' alibi as they also look into hundreds of others in connection to the case. ISP sent two detectives to Colorado Friday to interview Nations.
If you have any information regarding the investigation, police are encouraging you to call the tip line at 844-459-5786. Callers can remain anonymous. Tips can also be sent to abbyandlibbytip@cacoshrf.com.
Person of interest in #Delphi murders *was in Morgan County the day after Abby & Libby were murdered. That's a 1.5 hour drive from Delphi. pic.twitter.com/DFo0WEkjj3

— Alexis McAdams ABC-7 (@AlexisMcAdamsTV) September 29, 2017