This is an archived article and the information in the article may be outdated. Please look at the time stamp on the story to see when it was last updated.
UPDATE (July 9, 2018)– Larry Whitaker was sentenced to 365 days in jail, with two days of jail credit and 361 days suspended. He'll serve two days in jail.
Original story:
SPEEDWAY, Ind. – An 11-year-old girl in Speedway was found safe and sound after being reported missing Monday night. During the search, police were forced to rescue and then arrest a man who jumped into Eagle Creek to try and avoid talking to officers.
The unusual incident was all caught on camera.
With the wind and rain in recent days, Eagle Creek is flowing faster than normal. Wayne Township Fire officials say that almost cost the man his life as he tried to run away from police.
"We were kind of shocked that he jumped in," said Wayne Township Fire Captain Mike Pruitt.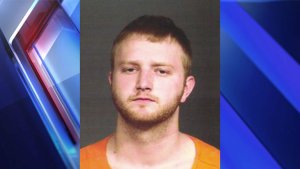 With the waters of Eagle Creek swirling, the suspect struggled to stay afloat. At times, his faint heat signature briefly disappeared.
"There were actually a couple points he was struggling and went under the water and I saw him disappear," said Pruitt.
Captain Pruitt says the crew was searching for a missing 11-year-old girl when investigators saw three men walking together before one took off running.
Over the years, Wayne Township Fire crews have flown their unmanned aerial vehicles to look for hot spots while working fires and in search and rescue cases, though rarely with such an unusual outcome.
"It's all about safety. These unmanned aerial vehicles are such a benefit to public safety," said Pruitt.
Eventually, Speedway police were able to drag the man away from the water. Investigators arrested Larry Whitaker, although they admit it's not clear exactly why he went for an impromptu swim to try and escape police because he had no involvement in the girl's disappearance.
"Maybe he thought he had a warrant for his arrest, but Speedway police confirmed that wasn't the case, so we don't know why he choose to flee, but it could have cost him his life," said Pruitt.
The suspect was arrested on one count of resisting law enforcement.
In the meantime, Pruitt encourages all public safety departments to look at investing in their own drone technology.