This is an archived article and the information in the article may be outdated. Please look at the time stamp on the story to see when it was last updated.
INDIANAPOLIS, Ind. – A man charged in connection with the death of a pastor's pregnant wife in November 2015 has entered a plea deal.
Jalen Watson, 23, is one of three men charged in the fatal shooting of Amanda Blackburn during a home invasion robbery on November 10, 2015.
The court confirms Watson is pleading guilty to one count of robbery and two counts of burglary in connection with the case. Per the agreement, all other charges, including two counts of murder, will be dismissed.
Marion County Prosecutor, Terry Curry said Watson agreed to help in the prosecution against the co-defendants in the Amanda Blackburn Case.
Curry said he's pleased with the outcome and he as well as Watson's attorney have been working on an agreement for months. Curry said he felt the agreement was "appropriate."
"We were confident his involvement was certainly less than the others in addition to the obvious which is obtaining his cooperation in the prosecution of Larry Taylor and Diano Gordon," Curry said.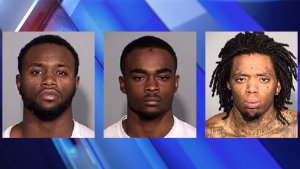 Larry Taylor and Diano Gordon also face murder charges in connection with Blackburn's death.
Additionally, all three men are accused of committing two other burglaries on the morning of Blackburn's death, as well as robbing a woman at a west side apartment on November 3, 2015.
Watson has agreed to plead guilty to burglary in that case with all other charges to be dismissed.
Watson's next hearing is scheduled for April 27, 2018.