This is an archived article and the information in the article may be outdated. Please look at the time stamp on the story to see when it was last updated.
HENDRICKS COUNTY, IND. — Firefighters from across Hendricks County responded to a home south of Pittsboro Wednesday morning.
Firefighters were dispatched to the 5200 block of North County Road 400 East on reports of a house fire.
When they arrived, heavy fire could be seen coming from the rear of the home.
It took firefighters about 45 minutes to bring the fire under control.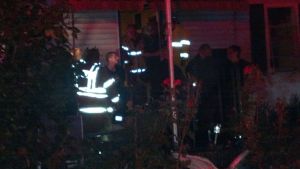 During the incident, officials said a man on scene threw a ladder and a concrete slab at the SUV operated by the Brownsburg battalion chief.
No one was injured in the incident, but alcohol is believed to be involved as well as possible mental issues according to officials on scene.
Officials said it appeared the man objected to the fire department being in his driveway when his house was on fire.
Fire investigators believe lightning likely caused the fire.