This is an archived article and the information in the article may be outdated. Please look at the time stamp on the story to see when it was last updated.
SPENCER, Ind. (March 25, 2016) — A man arrested in connection with the death of 14-month-old Shaylyn Ammerman in Owen County is being held on multiple charges.
According to officials at the Owen County Jail, 22-year-old Kyle Parker faces two counts of obstruction of justice, a count of failure to report a dead body and a count of unlawful disposition of a dead body.
Parker's mother Christina Patton released the following statement Friday evening regarding her son's arrest:
"News of Shaylyn's loss has left us completely heartbroken. We wish to extend our most sincere condolences to Shaylyn's family. Our hearts are heavy and filled with grief over this beautiful little girl's passing. It is a difficult time for all families involved. We ask for continued thoughts and prayer as police agencies continue their investigative process into this tragedy."
Friday morning, Owen County Sheriff Leonard Sam Hobbs offered only a cursory update on the investigation, deferring to Indiana State Police. He said Parker hasn't made any statements since being taken to the Owen County Jail. He described the investigation as ongoing and said it would be a "long day" for investigators as they gather information about the case. Investigators were awaiting autopsy results Friday.
The body of Shaylyn Ammerman was found Thursday night. According to Indiana State Police, the remains were discovered around 6 p.m. in a remote area located near the White River and northeast of Gosport. Police announced late Thursday that Parker had been arrested in connection with the case.
"The baby's safe with God now," Hobbs told reporters Friday. "A tragedy like this can bring out the best in people. The community has been nothing but the best, and I thank God for that."
Hobbs said there were three or four "persons of interest" in the case. He couldn't comment on any warrants related to the investigation. As for Parker, Indiana State Police said they were still connecting the dots.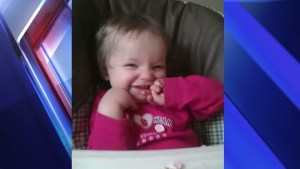 "We do know he was in the house that night, but we don't know where his whereabouts were, we cannot draw a map right now of what happened when he left that house," Sgt. Curt Durnil with Indiana State Police said Thursday night.
The little girl was reported missing Wednesday morning. She was last seen at the home where her father and grandmother live in the 400 block of West Jefferson Street in Spencer. Her father, Justin Ammerman, said his mother put the child down for bed just before midnight Tuesday. When he woke in the morning, she was gone, setting off a large search.
Durnil said the investigation was far from over.
"Let me be really frank here. Please don't feel like because we've found a body and we've made an arrest that this case is anywhere near over. This case is just getting started with more interviews, with more investigative tactics with everything that we have at our disposal we will use to bring those who are responsible for this little girl's death to justice," Durnil said.
Justin Ammerman's brother, Adam, said Kyle Parker had been drinking at the home on the night Shaylyn vanished. State police cautioned that the investigation into the case could take weeks, if not months.
According to court records, Parker has been charged in the past with possession of paraphernalia and possession of a synthetic or lookalike drug. He's also been picked up for possession of marijuana and illegal consumption of an alcoholic beverage, records show. In another case, Parker was charged with criminal trespassing and a protection order was filed by his victim.