This is an archived article and the information in the article may be outdated. Please look at the time stamp on the story to see when it was last updated.
INDIANAPOLIS, Ind.– An Indianapolis man was arrested Thursday after authorities said he impersonated a police officer during the procession and ceremonies for fallen officer Rod Bradway.
At about 3:30 p.m., just before the procession from Officer Bradway's funeral to the Indianapolis Metropolitan Police Department's Northwest District Headquarters, officers arrested 38-year old Minh V. Nguyen.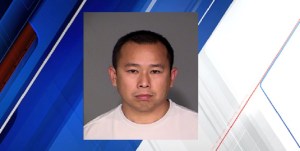 According to the police report, Nguyen was arrested at Northwest District Headquarters for impersonating a public service officer and theft. Metro police detectives noticed Nguyen standing at the far side of Northwest District in a full police uniform complete with two guns. However, the patch on his uniform was not for IMPD, it was a generic emblem. Detectives were suspicious of Nguyen because he has a history of impersonating officers, though he's never been arrested for doing so before.
When officers asked Nguyen Thursday if he had arrest privileges, he told them no. They quietly took him around and inside Northwest District Headquarters to talk to him more. He said his permit for his guns was in his car. Inside his vehicle, described as a Dodge Charger made to look like that of an undercover officer, they found several pieces of paperwork Nguyen should not have had access to as a private citizen. He also had an AR15 rifle in the car.
Nguyen was named in previous police reports, but not charged in any of them. He even assisted officers in making an arrest in a couple of the incidents.
In August of 2004, drivers complained that Nguyen was trying to pull them over in an unmarked Ford Crown Victoria. The report said Nguyen did not have actual police lights or sirens.
In October of 2004 Nguyen said he was an off duty police officer from Sheridan when he was working as a security guard and noticed a drunk driver. Responding officers arrested that driver for DUI.
In October 2011, he said he was working as a security guard at an apartment complex when a woman needed help in a domestic disturbance. He called police after convincing the suspect in that case to put on handcuffs.
In July 2012, Nguyen was listed as a suspect in a Peeping Tom incident, allegedly installing a camera in his neighbor's home, but he was not arrested or charged according to that report.
After Thursday's arrest, a search warrant was executed at Nguyen's home. He was being held on $5,000 bond Friday morning.