This is an archived article and the information in the article may be outdated. Please look at the time stamp on the story to see when it was last updated.
INDIANAPOLIS,  Ind. (Sept. 26, 2014)– An Indianapolis man was sentenced to 110 years behind bars Friday for the fatal shooting of a gas station clerk.
On Sept. 25, 2013, Elvalide Ndyiae was gunned down at the BP/Rickers on W. 38th St. and High School Rd. He'd worked there for just two days.
Shayne Thompson pleaded guilty to murder and robbery in August. Additionally, Thompson pleaded guilty to a robbery on the same night at the Speedway gas station on 71st Street and Keystone Ave., as well as burglary and five counts of criminal confinement for an east side home invasion during the same month.
Thompson was sentenced to 110 years in prison Friday.
"Just one year ago, Evalide Nyiade lost his life while simply doing his job, a job that supported him and his loved ones," said Marion County Prosecutor Terry Curry.  "Shayne Thompson will now likely spend the rest of his natural life in prison for his violent and senseless crimes.  This kind of violence is clearly unacceptable in our community, and our office remains committed to aggressively prosecuting these senseless crimes."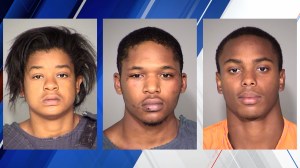 Ryan Clark and Janai Hudson were also charged in the gas station robbery and murder.
On Thursday, Clark and Hudson pleaded guilty to robbery resulting in serious bodily injury. They are set to be sentenced on October 10.
The suspects had six cartons of cigarettes, a Slim Jim and $48 when they were arrested.