This is an archived article and the information in the article may be outdated. Please look at the time stamp on the story to see when it was last updated.
INDIANAPOLIS, Ind. (March 24, 2015)– Police say a man entered the CVS pharmacy at 5502 West 38th Street last week demanding drugs. The robbery occurred on March 18 at 6:51 p.m.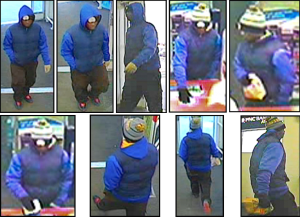 Police say the suspect entered the store with a note including a list of drugs. The suspect fled the store with the drugs in a brown bag.
The suspect is described as being 22-25 years old, 5'10", 180 pounds, clean shaven, wearing a Steelers stocking cap, blue hoodie, dark blue or black puffy vest, dark pants, tan glove on his left hand, black glove on his right hand and blue or black shoes with orange or red laces and red soles.
The suspect is also possibly the same suspect that robbed the CVS at 6509 North Keystone Avenue on March 21.
Anyone with information is asked to call Crime Stoppers at 262-TIPS.