This is an archived article and the information in the article may be outdated. Please look at the time stamp on the story to see when it was last updated.
MADISON COUNTY (Dec. 1, 2014) – Four years ago, Jerrel Watkins was convicted in a drunk driving crash that left IMPD Officer Santos Cortez paralyzed.
And today, Watkins was sentenced to six years in prison for a separate drunk driving case.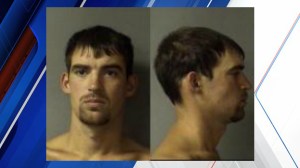 Watkins was arrested in July 2014 on suspicion of impaired driving after police found him acting strangely while trying to start his car. Police said he had slurred speech, slow reaction time and bloodshot eyes.
Watkins pleaded guilty in the case. Prosecutors had asked for the maximum sentence of six years.
"That's the maximum sentence, there's not much more we could have done," said Rodney Cummings, Madison County Prosecutor.
Watkins was previously found guilty of crashing into Officer Santos Cortez's car in 2012. He served time but was released early.
Cortez was paralyzed after the crash.
"I prayed and hoped that he would go the straight and narrow. I just want the man to get I better," said Officer Cortez.
"I'm shocked that he got more years for this opposed to mine, but on the flipside I still have hope and pray that he will fix himself and clean himself up," said Cortez.
Watkins will serve about three-fourths, or about four-years of his sentence behind bars, according to Cummings.
Although Watkins received the maximum sentence, Cummings says the penalty doesn't match the crime.
"It doesn't seem to me in some circumstance that this is an adequate penalty for these kind of crimes," said Cummings.
Marie Greger-Smith, CEO of Advocates Against Impaired Driving, says Watkins will continue to drive drunk once he's released.
"If you didn't learn after you paralyzed somebody and you were not remorseful after that, then to me you have no regard for law enforcement and no regard for yourself," said Greger-Smith.
Cortez says he is pushing for stiffer penalties against drunk drivers who injury public safety officials.