This is an archived article and the information in the article may be outdated. Please look at the time stamp on the story to see when it was last updated.
COLD MID MAY DAY
Most of us have never experienced a May 15th this cold!  Only reaching 52° officially in the city – 20 degrees below normal for the date.  Not a record cool/maximum temperature, that record was set in 1895 with a high of only 46° but we were not far off.  This was the coldest May 15th in 55 years and ties for the 3rd coldest ever!
Remarkable cool – the high of 50° is the normal high for March 12th
COLDEST MAY 15th Highs
1.) 1895 46°
2.) 1927 47°
3.) 2014 52°, 1959 52°
MORE RAIN
2.44" of rain has fallen in the city since Sunday – and more is moving in Thursday night and Friday.  Low pressure will creep through the state Friday generating showers and more cool air.  Rain chances will be on the rise from western Indiana spreading east/northeast overnight.  The low will move overhead by late Friday morning – so we are expecting some dry time or rain free hours.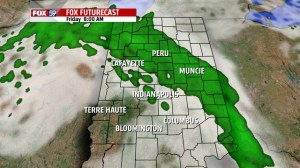 The average rainfall off 6 machine forecasts generated .22" of additional rainfall for the city, ranging from .04" to .38"
FAST FRIDAY
Some dry time Friday so there will be practice at IMS Friday.  Showers are in the forecast and will become more likely as the day progresses.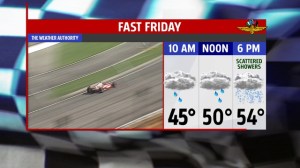 WARMING UP
A steady warm up is coming with highs in the 50s Friday climbing into the 60s over the weekend then the 70s early next week and reaching the 80s by Wednesday and Thursday.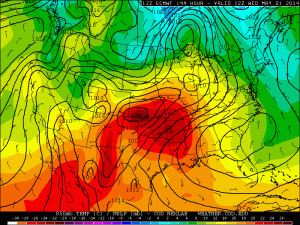 SNEAK PEEK
It is still quite a ways off but we are encouraged that the 2 long range forecast models are giving up the green flag for a nice race day.  A cold front will pass Saturday taking rain chances south and currently we are expecting Mostly Sunny skies and mild temperatures near 70°.  Hoping this holds up – we will keep you up to date!