This is an archived article and the information in the article may be outdated. Please look at the time stamp on the story to see when it was last updated.
INDIANAPOLIS, Ind. (Oct. 6, 2014)– The Marion County Clerk's Office and other counties have begun issuing marriage licenses for same-sex marriages.
This comes after the Supreme Court announced they would be staying out of the gay marriage debate—at least for now.
The high court rejected requests from five states, including Indiana, to immediately review their bans on gays and lesbians from civil wedlock. The denial of the five states' cert petitions means a federal appeals court ruling invalidating Indiana's marriage statute can take effect and a stay order that had blocked implementation of that ruling will be lifted soon, meaning county clerks will be required by federal court order to issue marriage licenses to otherwise eligible same-sex applicants.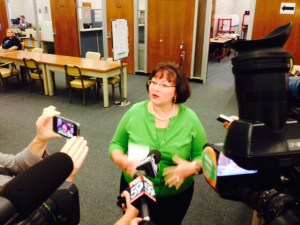 "I am delighted to once again welcome all loving Hoosier couples to the Clerk's Office to obtain a marriage license," said Clerk Beth White. "Limbo for these couples is over and they can expect nothing but dignity and respect from our marriage license staff when they arrive."
"Defending Indiana's statute at trial and on appeal was our duty as attorney for our state government and was necessary," said Indiana Attorney General Greg Zoeller.  "Our legal system is based on the bedrock principle that both sides in a dispute will be zealously represented by counsel who will advocate for their clients so that the courts can weigh the arguments and decide. Our constitutional process for testing the validity of statutes worked as intended, and Indiana's legal defense has been conducted with civility and respect for all sides and within existing resources."
Although same-sex marriage licenses will be issued Monday, the clerk's office will not perform marriages today.
"We will not offer civil ceremonies as we did in June when same-sex marriage was briefly allowed in Indiana since the same state of urgency does not exist," White said. "When couples decide when their wedding day will be, they have 60 days to use their license."
#Indy resident Katie Burris was first in line to get #samesexmarriage license @MCCOindy http://t.co/UHpaZBheAK pic.twitter.com/Xrx79VA6hP

— FOX59 News (@FOX59) October 6, 2014
Prospective applicants are asked to research what the process entails before coming to the Clerk's Office for a license by visiting www.indy.gov/clerk.
The marriage license application should be started online at www.in.gov/judiciary; however, couples must appear in the Clerk's Office to complete the process before being issued a license.
The clerk's office posted the following update on Twitter regarding the licenses:
For all couples: 1 person must reside in Marion County to apply for a license @MCCOindy and marry in Indiana. Fee is $18 for IN couples #ssm

— Marion County Clerk (@MCCOindy) October 6, 2014
The clerk's office said couple must also provide proof of residency and to show one the following forms of identification: a valid driver's license or state-issued ID card, an original certified birth certificate, military ID, or passport.
The Clerk's Office is located in the City-County Building (200 E. Washington Street, Room W122). Regular business hours to process marriage applications are from 8 a.m. to 4:30 p.m. Monday through Friday. Applicants should use the Market Street entrance and be prepared to go through a security checkpoint.
By the close of business Monday, the Clerk's office reported that it issued 7 marriage licenses to same-sex couples.
Other counties issuing same-sex marriage licenses include Tipton, Hancock, Hamilton and Decatur. Counties that are waiting for an attorney's order include Boone, Morgan, Shelby, Johnson, Hendricks, Brown, Bartholomew and Franklin.
Members of the American Civil Liberties Union of Indiana and same-sex couples involved in pending cases spoke to the media following the SCOTUS announcement.
"I am ecstatic that the long-promised goal of marriage equality has been fully realized," said ACLU legal director Ken Falk. "This case is over, and same-sex marriage is a reality in Indiana. This is good for Indiana. It is a great day not only for our plaintiffs and their children, but for all those who want to get married in Indiana."
Indiana natives Rob MacPherson and Steven Stolen, who have been together for 27 years, also spoke Monday about their excitement for the Supreme Court's decision. The couple, who were married in California in 2008, will celebrate their anniversary on Oct. 11.